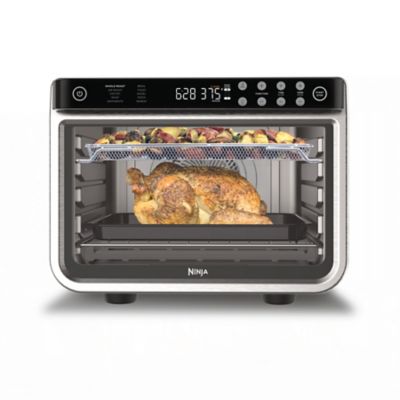 Ninja® Foodi™ Digital Air Fry Toaster Oven 10-in-1 XL Pro with Dehydrate and Reheat
$279.99
was $329.99
(15% off)
Most Helpful Positive Review
Perfect addition to our kitchen
DerekB
.
2 years ago
[This review was collected as part of a promotion.] The XL Pro Air Fry Oven is bigger than expected but not in a bad way as it is able to cook plenty of food at one time and fits perfectly on our counter. It has 10 different functions and could probably replace our oven. It comes with a good amount of accessories, air fryer basket, 2 baking sheets and a roast tray, our muffin pan fitted perfectly too. The control panel is very easy to use and I like that it tells you which level to place the sheet or basket on to get the best results. There is a 90 second preheat function that begins when you push the start button and once complete the programed cook time will start. If you open the door during cooking it will stop and then continue again once it is closed. I love that the oven is big enough to do an entire meal for our family of 3. Everything we have air roasted has come out perfectly but I do need to learn to use less oil as I found it did spray a little on the door. My son baked muffins and although they all cooked properly but they did not brown the same and some not at all. The toast function works well but again did not evenly brown each piece. We cooked 2 pizza's from frozen, both fitted in the oven with no problem and came out cooked to perfection! After each use the oven is wiped down and it is kept unplugged between use as suggested in the manual. The one thing that was disappointing is that there are not many recipes listed or instructions for cooking different vegetable or protein, as it is so new I am unable to find much online. Apart from that we absolutely love the oven and would definitely recommend it.
Most Helpful Critical Review
Cleaning the heat elements = nightmare
Dajingjing
.
2 years ago
- this is solely to the cleaning part which I'm sure it's very important for many busy families out there Even air fry without any oil, chicken wings came out with lots of grease (this is what I used), and the pic is after almost 30 mins deep cleaning, there's nothing I can do with the heat element (even googled and YouTubed bunch!) Most important this is my first use and the look at the heating element already. Debating keep or return??!!! I need the solution to clean the heat elements otherwise the inside looks way older than the outside, for god sake this is a brand new machine!!
customer reviews
Showing 1 - 20 out of 582 reviews
Perfect addition to my kitchen
Meg . 6 days ago
Great variety of settings and I find easy to clean. I have used parchment paper when air frying greasy foods like wings. I have put the cookie sheets in the dishwasher and they come out great! So far. We use this almost every day. Wipe it out after it cools. Only wish it would go to 500 degrees but 450 is better than most.
We love this thing!
doeeyes67 . 1 week ago
We grabbed this after another name-brand one crapped out & we LOVE it! We use it to air fry, bake, toast, bagels, you name it! I love that it makes cooking stupid-easy by letting you adjust temp, time, and how many slices of toast. People frustrated just don't understand that this is convection cooking and it has a bit of a learning curve, but stick with it. I love that the crumb tray is easier to get to/clean, but the heating elements on the bottom aren't. I didn't fault them for that because most ovens are that way. It does get hot to the touch outside & will have a bigger footprint on your counter than a regular toaster oven.

Originally posted on influenster.com
So far really good
LRRROP8 . 2 weeks ago
I bought this for the cabin I'm building as I'm reluctant to buy an oven for a small space for limited people. I have it running on a 20 amp circuit and no issues. And the buttons still have their labels after three uses, unlike some reviewers. So far, I've roasted veggies, baked bread and a few other things and all of them turned out pretty good. I'd say it cooks about 10-20% faster than a full sized oven. It's probably larger that an average microwave, but lighter. I do wish the interior light would stay on, and the menu is ok but it's a bit strange compared to other appliances as the functions are pre-programmed with times/temps, which you then adjust vs being blank for time/temp. I'd prefer blank, but that's me.
Originally posted on Shark Ninja
Cleaning
Autumnplot . 3 weeks ago
Cleaning takes longer than cooking. After time becomes useless. I have tried everything except oven cleaner. The non stick coating must be cheap and must wear off after time. For the price I paid it should be a self-cleaning oven. Yes it cook's great but the Cleaning part takes away from using it. I won't buy another one.


Originally posted on sharkninja.com
Good, but not great.
Rachel . 3 weeks ago
This oven really has been a game changer for us in our small cabin, it cooks *almost* anything. I've cooked a couple of small turkeys in it as well and they came out great. It wasn't until I started baking homemade bread that I noticed something may be off. In order to bake certain breads, the oven needs to be at least 450 degrees, which I thought would be fine, since that's the temperature this oven goes up to. I noticed my breads weren't baking correctly, which after some trial and error, I realized it's because this oven isn't getting as hot as it should be. It says the max temp for this oven is 450, but after putting multiple thermometers inside, the highest this goes is 400 degrees. That may not be a deal breaker for a lot of people, but for some who require higher temps, I would think twice. I also want to mention to be careful wiping off the handle, after only a few weeks, the white paint on buttons completely rubbed off, and this was only using water to clean with.

Originally posted on sharkninja.com
great cooking
happy owner . 4 weeks ago
All around great little oven saves time & money$$$$.. And does so much!!! And so easy to use. I brought two of them one for me and one for my MOM. We both like them a lot.
I wanted to love this
Matthew . 1 month ago
I wanted to love this oven. The oven itself works absolutely amazing and I love using it. however. the biggest drawback is the pans. They are an odd size and I can't find anyone else who makes pans this size. The pans are NOT non stick. EVERYthing I cook in this oven I have to scrape off the pan. Even when I use excessive amounts of cooking oil. It's so unbelievably frustrating. I was even more disappointed to find out that Ninja does not make a non stick pan for this oven.

Originally posted on sharkninja.com
No Coating Inside
Karen . 1 month ago
I was thrilled to get my Ninja Foodi XL Pro AIR Oven and use it for all my needs. However, after using the air fryer a number of times, I noticed the inside getting extremely greasy and gross inside. I didn't want to use harsh chemicals to clean, but found nothing else worked. I had to use a stronger cleaner-Dawn Degreaser. Upon application, I was disappointed to have a strong smell and the little finish that was put on the inside oven, was off. What a piece of crap this oven is. It doesn't clean well nor look nice enough to sit on my counter. I am completely unhappy with my purchase. Don't waste your money on an oven that does not have stainless or ceramic to coat the inside! What can Ninja do to help me?
Love the light
BB&B Customer . 1 month ago
Lives up to the Ninja name
Use this oven three times
Sara . 1 month ago
I would not buy this that should not have worn off . The start button. We'll see what happens next.


Originally posted on sharkninja.com
An all in one appliance!
BB&B Customer . 1 month ago
This product does everything, so I've gotten rid of my one function appliances. Needs a better cookbook to come with it, bought one and it's just marginal.
Too big
Peggy . 1 month ago
Way too big for an Airfryer. Airfryer function not good as I used different few brands. Price is too high for this Airfryer. Not worth to buy.
I returned it
Monica . 1 month ago
My friend recommended this to me and Hyde it's gorgeous however it was too big for my counter space and I really didn't need such a big unit. Looks great
Very please with this purchase!
Sylvia . 1 month ago
Este horno, tostador es una maravilla, lo he estado usando casi un mes ha funcionado perfecto. Jamás había usado un horno de estos para cocinar, con este he horneado banana bread, winds, pizza., el tostador es excelente. Mi esposo y yo estamos muy complacidos.
Disappointed
Northern . 2 months ago
When I first purchased, it was ok, thought it would be better than it is. My biggest problem is even after cleaning it after each use its filthy inside, I can't get the caked on grease or whatever it is off. It smokes up my apartment. So disappointed. I'm actual thinking of taking the loss and throwing it out unless anyone has any cleaning tips.
Originally posted on Shark Ninja
BB&B Customer . 2 months ago
I thought it was a bit difficult to figure what settings to use for items and how long but got better with practice. I feel instructions could be better.
Fabulous Air Fryer
Becky . 2 months ago
Love the design, so many features and easy to clean, best air fryer ever!
I Love This Oven
Dianna . 2 months ago
This little oven has a great number of uses, I still haven't used all of them. The temperatures are a little off but I have learned to adjust the temperature to set and have. Ever had an issue. The oven can cook as high as 450 and it does not raised the temperature in my house. You do need to clean after every use as baked on residues are hard to remove.
So happy I finally bought this
Tonya . 2 months ago
I had a smaller ninja that I loved but it was too small for taller things. I absolutely love this larger ninja and all the stuff it's capable of. I rarely used my oven before with the smaller one and now I really don't use it.m which I love because it saves energy, cooks faster and everything is delicious. Don't wait like it did!
not like a full size oven
parttimecook . 2 months ago
You have to experiment to get it right. Temperature and times are only guidance. Air fryer is loud. Other customers made same comment. Top does get hot. Hard to clean after air frying. Might get separate air fryer. Very good for cooking smaller portions.
Showing 1 - 20 out of 582 reviews