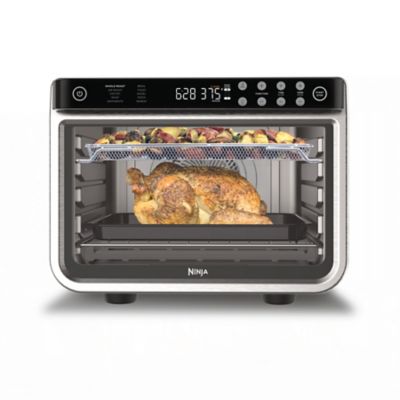 Ninja® Foodi™ Digital Air Fry Toaster Oven 10-in-1 XL Pro with Dehydrate and Reheat
Most Helpful Positive Review
Perfect addition to our kitchen
DerekB
.
2 years ago
[This review was collected as part of a promotion.] The XL Pro Air Fry Oven is bigger than expected but not in a bad way as it is able to cook plenty of food at one time and fits perfectly on our counter. It has 10 different functions and could probably replace our oven. It comes with a good amount of accessories, air fryer basket, 2 baking sheets and a roast tray, our muffin pan fitted perfectly too. The control panel is very easy to use and I like that it tells you which level to place the sheet or basket on to get the best results. There is a 90 second preheat function that begins when you push the start button and once complete the programed cook time will start. If you open the door during cooking it will stop and then continue again once it is closed. I love that the oven is big enough to do an entire meal for our family of 3. Everything we have air roasted has come out perfectly but I do need to learn to use less oil as I found it did spray a little on the door. My son baked muffins and although they all cooked properly but they did not brown the same and some not at all. The toast function works well but again did not evenly brown each piece. We cooked 2 pizza's from frozen, both fitted in the oven with no problem and came out cooked to perfection! After each use the oven is wiped down and it is kept unplugged between use as suggested in the manual. The one thing that was disappointing is that there are not many recipes listed or instructions for cooking different vegetable or protein, as it is so new I am unable to find much online. Apart from that we absolutely love the oven and would definitely recommend it.
Most Helpful Critical Review
Cleaning the heat elements = nightmare
Dajingjing
.
2 years ago
- this is solely to the cleaning part which I'm sure it's very important for many busy families out there Even air fry without any oil, chicken wings came out with lots of grease (this is what I used), and the pic is after almost 30 mins deep cleaning, there's nothing I can do with the heat element (even googled and YouTubed bunch!) Most important this is my first use and the look at the heating element already. Debating keep or return??!!! I need the solution to clean the heat elements otherwise the inside looks way older than the outside, for god sake this is a brand new machine!!
customer reviews
Showing 1 - 20 out of 595 reviews
I returned it
Monica . 3 months ago
My friend recommended this to me and Hyde it's gorgeous however it was too big for my counter space and I really didn't need such a big unit. Looks great
Very please with this purchase!
Sylvia . 3 months ago
Este horno, tostador es una maravilla, lo he estado usando casi un mes ha funcionado perfecto. Jamás había usado un horno de estos para cocinar, con este he horneado banana bread, winds, pizza., el tostador es excelente. Mi esposo y yo estamos muy complacidos.
Disappointed
Northern . 3 months ago
When I first purchased, it was ok, thought it would be better than it is. My biggest problem is even after cleaning it after each use its filthy inside, I can't get the caked on grease or whatever it is off. It smokes up my apartment. So disappointed. I'm actual thinking of taking the loss and throwing it out unless anyone has any cleaning tips.
Originally posted on Shark Ninja
BB&B Customer . 4 months ago
I thought it was a bit difficult to figure what settings to use for items and how long but got better with practice. I feel instructions could be better.
Fabulous Air Fryer
Becky . 4 months ago
Love the design, so many features and easy to clean, best air fryer ever!
I Love This Oven
Dianna . 4 months ago
This little oven has a great number of uses, I still haven't used all of them. The temperatures are a little off but I have learned to adjust the temperature to set and have. Ever had an issue. The oven can cook as high as 450 and it does not raised the temperature in my house. You do need to clean after every use as baked on residues are hard to remove.
So happy I finally bought this
Tonya . 4 months ago
I had a smaller ninja that I loved but it was too small for taller things. I absolutely love this larger ninja and all the stuff it's capable of. I rarely used my oven before with the smaller one and now I really don't use it.m which I love because it saves energy, cooks faster and everything is delicious. Don't wait like it did!
not like a full size oven
parttimecook . 4 months ago
You have to experiment to get it right. Temperature and times are only guidance. Air fryer is loud. Other customers made same comment. Top does get hot. Hard to clean after air frying. Might get separate air fryer. Very good for cooking smaller portions.
Didn't even last 2 years
BB&B Customer . 4 months ago
Warranty ends at 1 year. Also does not get wings crispy at all.
Fantastic job cooking and gets done quickly!
Jo Anne . 4 months ago
Can cook anything with the ninja . Easy to clean and plenty of recipes I can change over to the air fryer. Love it!
Ninja foodie
Robert . 4 months ago
Just perfect in every way.
Really Love This Air Fry Oven
Carolyn . 4 months ago
I really love this oven but was really disappointed that the specifications listed on the website were incorrect. The size on the website would have been perfect, but the actual size of the product when I received it, was way smaller than I wanted. The size is very important to me so I will be using this little oven until I can find one that is the size I want. I will then give it to my daughter.
So fair, I LOVE it!
LindaW . 4 months ago
I say "so far" bc I literally just got it tonight BUT I love the size and look of it! And sure enough, a 12- cupcake pan fits perfectly!! I will say, it is heavy as heck. Then again I'm 58 yrs old and 5'2 with the strength of a fly lol. But I just wanted to put that in so if you get one you might want a little help to get it on the countertop. If I'm allowed to follow up on my review after using it for a bit, I will.
Air Fryer/Toaster XL Pro
Kelly P . 4 months ago
Very easy to use, Compact for all of what it does & Cooks food Great. Love the Design.
Very versatile
Bbok . 4 months ago
Does it all ! Great controls. Comes with all the pans disappointed when I baked cupcakes using the pan provided

Originally posted on sharkninja.com
makes my life so much easier
Richard . 4 months ago
makes my life so much easier works so well
I am in love
elenv2 . 5 months ago
I LOVE this thing. It is so great. It makes chicken nuggets and fries at the same time in about 18-20 and they come out so crispy. What an amazing project!

Originally posted on influenster.com
One can last for less than a year
Nicki . 5 months ago
This one died in less than a year and the second one died in less than a year as well. It worked great while it lasted.
Quality is good
Mike . 5 months ago
Used the product for more than a month now. Highly satisfying and could multi purpose like grill, bake, heat and quick cook.
Never lets me down
BJ2021 . 5 months ago
I am fairly new to ninja products just a couple years but i am hooked and have almost everything. The way this oven cooks and makes the food taste even the simple things like a frozen pizza taste better is always amazing. I always recommend ninja products to my family and friends and the oven is another product id recommend to them. I love it! Can't wait to try a turkey in it for Thanksgiving lol

Originally posted on sharkninja.com
Showing 1 - 20 out of 595 reviews