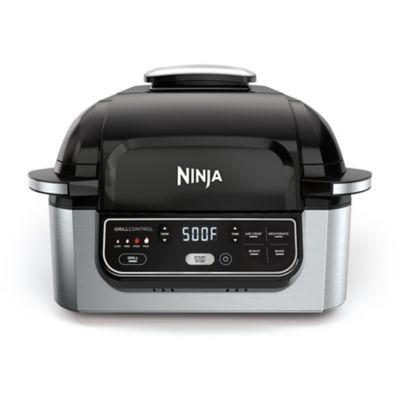 Ninja® Foodi™ Indoor Grill 5-in-1 with 4-Quart Air Fryer
Most Helpful Positive Review
Over the top amazing!
jrsatx
.
4 years ago
[This review was collected as part of a promotion.] We have a lot of high-end appliances (pressure cooker, toaster oven, blender), but this is one of the best. So far I have used to to make almost perfect breakfast potatoes and tortilla chips. It heats up quickly and cooks evenly. I did both completely oil-free. My only recommendation is to watch and stir a bit more if you use no oil at all. Some oil can help even out the cooking but I was trying to push this thing to the limit. It is large but the build quality is great and it is really easy to clean. It is also very easy to operate. I highly recommend this product. Ninja has knocked it out of the park with this one.
Most Helpful Critical Review
Overall Good Featues
Dr.C
.
4 years ago
I was extremely excited to get this product. I watched the infomercials and could not wait to see for myself if the "rumors" were true. Upon receipt, I used the air fryer for chicken wings and it worked great. However, it was HORRIBLE for fish. Next, I used the grill for chicken. The chicken was excellent. I was excited! The thing that I was not excited about was the cleanup. This is my biggest complaint. I have used this unit 4 times and I have cleaned it each and every time. However, you cannot clean it thoroughly and the bar that is over the heating mechanism is rusted. This is a MAJOR problem. I have attached a picture for your review. Also, the splatter guard is impossible to clean properly. I have soaked it and placed it in the dishwasher, and it still doesn't come clean. Any grease that gets on it is hard to remove and it should not happen like this. To much money was paid for this product for this to happen. I just got this unit Oct. 30, 2019. Shaking my head.
customer reviews
Showing 1 - 20 out of 1874 reviews
LIFE CHANGING APPLIANCE
jenaa1 . 1 month ago
I have had my Ninja Foodi 4 in 1 indoor grill for about 4 years and it's still amazing! It can do anything fancy, but also simple things like air fry french fries, heat up Taquitos, and make grilled cheese sandwiches. I've also used the Grill feature to cook a whole pork tenderloin in less than 20 minutes. Nothing is ever dried out and it cooks food very fast! Even perfect for reheating pizza!
Originally posted on influenster.com
I love it
BB&B Customer . 2 months ago
Great !!!!
Best Birthday Gift Ever...
BB&B Customer . 2 months ago
This was a gift for my boyfriend and he absolutely loves it ❤️!
Very nice
Charles . 3 months ago
I have one and just bought one for a gift.
The best indoor grill
BB&B Customer . 3 months ago
I love it! Fast, easy to clean, quality of meat grilled is the same as any outdoor grill! Highly recommend!
Lori . 3 months ago
Makes delicious crispy chicken wings! Easy to clean too!
Love It!!!
Sande . 4 months ago
I love my indoor ninja foodi indoor grill! I use it more than I use my stove. My sister in law came to visit and when she went home she bought one. We bought our daughter in law one for her birthday. She love it to.
love it!
Sandra . 4 months ago
cooks great, saves time, watch it because it cooks really fast
Pretty good
Adam . 4 months ago
It's pretty fun to use. It's stated to be smokeless but each time we've used it, it put out enough smoke to set off our fire alarms. The booklet of recipes might be a bit off on the timing they give to cool stuff, because both times we've used it the meat hasn't cooked all the way through, even when left in a minute longer than recommended. But it's easy to use and pretty easy to clean.
Great grill
BB&B Customer . 4 months ago
Cooks very well but still need to keep practicing.
I love it
Elvira . 4 months ago
I love it, its is easy to clean to use
Get. This. One.
OnlyReviewsWhenNecessary . 5 months ago
There are a million air fryer combos out there, but this one is nothing short of fantastic. On top of that, the customer service at Ninja is amazing! After 2+ years of daily(sometimes more than once a day) use, ours had an issue where the fan wouldn't shut off upon opening and then the timer wouldn't run. First issue ever. We called and they walked us through the problem and are sending a new one. Just had to pay shipping. $24. Not a problem. Totally worth it. They were courteous and helpful. I will definitely be buying another one down the line. Ninja products are fantastic!
Can't go wrong here!
BB&B Customer . 5 months ago
Have several of these between houses and you can't go wrong. BBBY was a little higher priced but with the always available coupons and free shipping, the bottom line is always better here.
Ninja 5-1 grill
BB&B Customer . 5 months ago
We are very happen with this product
Favorite new appliance
Audra G . 5 months ago
This is my favorite cooking appliance. It has been great not having to use the oven. I have found new ways to cook and also trying new recipes
was great until….
Ashley . 5 months ago
My family loved this air fryer; we used it almost daily. However, we purchased it October of 2021 and in August of 2022 it has stopped working! The unit no longer generates heat. Very disappointed that this machine didn't even last a year!
Best Air Fryer!
jennahd57d . 5 months ago
This air fryer is probably my most used small kitchen appliance. It works so well and the grill feature makes it so easy to cook grilled meats to perfection. It is also so easy to clean!
Originally posted on influenster.com
Great Product!
BB&B Customer . 6 months ago
Love my Ninja Foodie Indoor Grill! Cooks so fast. I've only grilled and air fried food, so far.
Great way to cook!
Geo1 . 6 months ago
I purchased this product about one month ago and am so pleased with the ease in using it and learning ways to cook our meals. Am able to prepare various dishes in a short time that taste very good. I am so pleased I purchased it.

Originally posted on sharkninja.com
Carolyn . 6 months ago
I purchased this having tried several foods at a friend's house. So far I have only used the "Air Crisp" setting. The food turns out great, but I'm very disappointed that I can't seem to get the mesh filter as clean as I would like it. It is severely discolored.
Showing 1 - 20 out of 1874 reviews