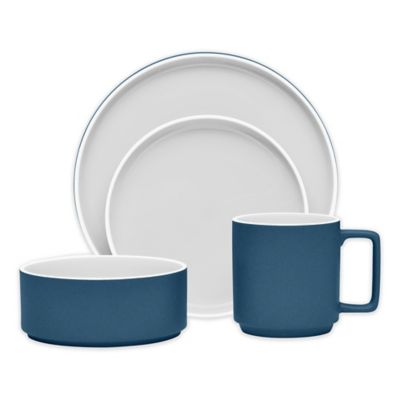 Noritake® ColorTrio Stax Dinnerware Collection in Blue/Grey
4 Pc. Place Setting $59.99
customer reviews
Showing 1 - 15 out of 15 reviews
Love these dishes!
Ginny . 11 months ago
Ordered 3 sets. Haven't used them yet as I am waiting to move into my new home. Love the look,feel and color.
Love these mini-bowls!
Ginny . 11 months ago
Love these mini bowls but can't get enough of them. Wanted 12 to go along with my set of Noritake Color Trio Stax dishes. Could only order 7 ... need 5 more and can't get them. Can only order one at a time ... plus shipping! Sounds like a money maker to me.
Color trio plates
jk . 1 year ago
These are great plates if you need an edge. You do need to have room to stack them.
Pretty and useful dinner plate
JUdine . 2 years ago
Needed a plate with a raised lip that would work with many types of decor. This is perfect.
No chipping, no scratches, I love this collection!
HonestJoe . 2 years ago
The Stax collection is sleek and modern. The Mini Plate is perfect in size for dipping sauces and other small sides. Not only that, but I've found the Stax collection to be durable and scratch plus chip resistant—unlike previously reported. Sadly, it seems BBB is not restocking anything in this style. This collection, in these colors, was made exclusively for them and can be found nowhere else. I was fortunate to get a great setting for eight with both bowl sizes, minus several of these mini plates that this site said were available when ordering them. Sadly, it appears BB&B will no longer be carrying the Stax collection since it's been several months now and the complete order hasn't shown up. Nor have they restocked any other Stax items in any color. This is when I turn to other brands, like Nambé to find the sleek designs that complement what BB&B fails to provide. I tend to like BB&B, but when I'm told items are available to complete a collection I'm after, I start losing trust. That said, I was at least able to get all the important Stax basics that I needed to get started. Buy this collection if they have what you're looking for and hope that you get it. It's fantastic in every important aspect: design, quality, and price.
1YEAR USE
GRATEFUL . 2 years ago
Bought these when we moved in our new house a year ago. Love them, to chipping etc. about to purchase more!
Not recommended.
Bed Bath and Beyond Customer . 2 years ago
These plates are beautiful but not durable. I accidentally tapped two together when loading the dishwasher and they both chipped. We got a bunch for our wedding one year ago and are already looking at buying different dishes.
dont buy
Bed Bath and Beyond Customer . 2 years ago
plates chipped quickly and scratches were seen almost immediately.
BEST DINNERWARE!
Bed Bath and Beyond Customer . 2 years ago
Great quality and weight! Really like different duo color choices the Stability of the stacking especially the mugs is wonderful and great for limited cabinet space!
Love this product!
Emily . 3 years ago
I love this dinnerware! It's so sleek and modern and I love how they stack. However, one of the dinner plates in my 16 piece set was delivered broken & I'm not sure if it's possible to just get the one plate replaced instead of returning the entire set.
Best Dishware I have ever had.
Maria Jose . 3 years ago
The dishes are beautiful to the sight, cheap resistant, they don't get super hot when put in the microwave oven. Elegant and of good quality.
These are wonderful
TheJude . 3 years ago
My husband has Parkinson's, and is beginning to have issues eating neatly. These place settings and the deep plates allow him to eat with dignity, and set a beautiful table.
very different looking
Judy . 4 years ago
bought three sets for my son's apartment and they look amazing and stack neatly in his closet
Love them!
Sandra D . 4 years ago
I really love these new plates! They stack so nice in the cabinet. Look very nice when the table is set.
Beautiful color
Jess . 5 years ago
I love the blue and grey combination and that they stack so nicely. I liked them so much I bought another set.
Showing 1 - 15 out of 15 reviews