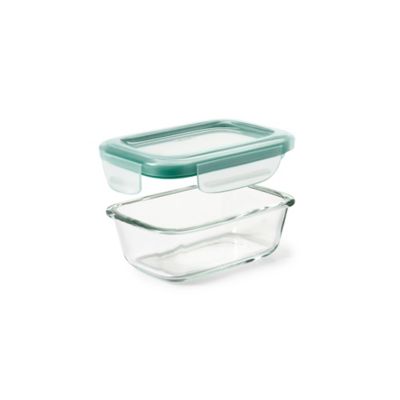 OXO Good Grips® 1.6-Cup Smart Seal Rectangle Glass Container
Most Helpful Positive Review
Healthy and User-Friendly
Beckster
.
7 years ago
I wanted to replace my plastic storage containers with glass ones and this container, plus the 3 smaller sizes, is perfect! And I love the "freezer-to-oven" feature, that they're microwaveable, dishwasher-safe, and that they nest and store so easily. I couldn't ask for better storage containers! I'm now looking at their other glass storage containers in the same line!
Most Helpful Critical Review
GLASS EDGES CHIP!
vw11
.
7 years ago
I bought 5 of the largest size after doing lots of research. We used to stack them in our cabinets. However, we noticed glass would chip off the edges of all our containers. The glass appears to be heavyweight so it doesn't make sense why they chip.
customer reviews
Showing 1 - 20 out of 233 reviews
Top notch
BB&B Customer . 1 month ago
These fo it all.
Glass container
Suzie Cat . 3 months ago
These will last much longer in the freezer than the plastic ones I had been using - unless I drop one and the glass breaks. The plastic ones often cracked in the freezer, and the contents leaked out. That should not happen with these. These glass containers are on the small side, for example holding just enough spaghette sauce for 1 or 2 servings.
Oxo SmartSeal
Marv . 3 months ago
I bought several of the 4 oz sizes, two of 1.6 cup, & one 3.5 cup, all but 8 cup, for storing food in freezer.I think they are one of best, if not the best, food storage containers available ( I also have many Oxo Pop containers for dry ingredients in pantry, which are also excellent). They are very thick and seal easily & well. My only negative is the different sizes do not stack with each other. This week I planned to buy a few more 4oz & 1.6 cup, but they were out-of-stock.
perfect container
Paul . 4 months ago
These are great containers. Great, secure containers for storing in refrig or freezer. Also can work to warm up in oven or microwave. They are glass so no worries about plastic staining or potential toxicity. Lids are very secure. Containers wash up easily in sink or dishwasher. They were not available in store so I ordered on line which was easy and delivery was seamless.
Awesome
Chabelita . 4 months ago
I bought a few small and large containers in the store and then ordered a few more online when I saw how well they worked for my needs. They're sturdy and great for hot or cold. Been using them for about 5 months and so far no complaints at all.
Can't live without these
Norma . 5 months ago
So easy to put leftovers away!!! And food stays fresher longer.
Love it!
Wayne . 9 months ago
I have these in three different sizes, which meets so many needs when it comes to food storage
OXO Glass Snap Container
Debra . 10 months ago
I have several of these in multiple sizes. They work great. I've had some for several years and no chipping or other problems that some reviewers have encountered. Dishwasher safe, I do pull out the silicone seal to get completely clean. All parts go in the dishwasher with plastic lid always on the top rack. Microwave with the lid popped open and loosely resting on top. Occasionally the top is fussy to put on after washing. I found if I press all 4 clips down at once I can get the top on securely.
Best container
Anita . 11 months ago
Large heavy duty with a great seal and shape.
Ice cream container
BB&B Customer . 12 months ago
I make my own ice cream without an ice cream machine. I had been using metal loaf pans and wrapping the pan with plastic wrap which doesn't work well. This container has the locking lid so it prevents frost from covering the ice cream. Just love it.
love these containers
Carrie . 1 year ago
I have every size in various numbers and use them consistently from small to large there is a size for everything I put in the fridge. I hand wash the lids and put the containers in the dishwasher. Open the lid, leave in place and put into a microwave oven.
Love these for freezing
Rick . 1 year ago
Very happy with the quality and durability of these. I bought some before but ordered more because the quality is top notch. They seal very tight and well. Love glass, so much better than plastic containers.
OXO Good Grips 8-cup glass storage container
BBBCustomer999 . 1 year ago
I am making the switch from plastic to glass for my storage containers. OXO is my go-to brand bc of their price point and warranty, but, I was hesitant to buy these due to the price per container. Though I was not disappointed, these are heavy duty quality storage containers. - Lid goes on easily every time (I have other containers that have to have perfect positioning of the lid before it will click closed and it's a pain) - Lid seals tight each time - Lid and sealing gasket piece are easy to separate and easy to clean. -8 cups is a great size I highly recommend this brand for glass storage and will be buying more in other sizes.
Horrible product
BB&B Customer . 1 year ago
Product indicates microwaveable safe. The ones I purchased have like melted plastic spots at the bottom of the container. I wonder how many dangerous chemicals I've ingested after heating food in the micro in these containers. I purchased snap ware containers and have no melted plastic issues with them. Stay away from OXO.
perfect
Carrie . 1 year ago
I have several of these containers in all sizes. They are good for every size I need. I do wash the lids by hand.
very good. great.
patrick . 1 year ago
we gave this as part of a bridal gift for someone we know in their wishing well. we thought they could use it. we hope they like it and have a good marriage.
Perfect for what I needed.
Shirley . 1 year ago
Love this product. Have been searching for the perfect container for a long time.
the right size
she wolf one . 1 year ago
Made of glass and just the size needed, easy to stack.
Great size for storage
BB&B Customer . 1 year ago
We love these glass airtight containers. They can't be beat in keeping food fresh in the fridge!
Can't live without these ...
NS . 1 year ago
These are so great to keep food fresh! And the fact that you can see in. Glass much easier to clean and healthier.
Showing 1 - 20 out of 233 reviews