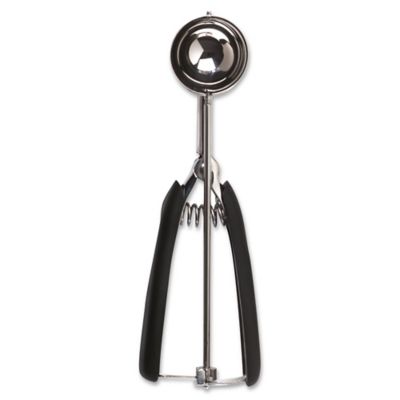 OXO Good Grips® Medium Stainless Steel Cookie Dough Scoop
Most Helpful Positive Review
Easy to use, just get the right size
QuirkeyCorkey
.
9 years ago
We received a medium sized one as a bridal shower gift, and I went back and added the small one as well to the registry! Medium is good for BIG cookies, small is appropriate for normal cookies - about 1 tablespoon. I'm glad I didn't ask for the large size. Easy to squeeze and releases the dough with a quick couple pulses if it's sticky or gooey.
Most Helpful Critical Review
Broke on the first use
wgn77
.
9 years ago
I bought 8 scoops for use in a cooking lab. The first lab and 3 out of the 8 broke. Another one actually broke during the first wash. I am very disappointed in the quality. I've always trusted the OXO brand, but do not recommend these scoops.
customer reviews
Showing 1 - 20 out of 420 reviews
Small Cookie Scooper
Brianne . 2 months ago
I usually love OXO items but this one was a huge disappointment as it broke during the second time I used it. My husband is so handy and tried to even fix it with no such luck. Very upset over this purchase.
BBB . 2 months ago
This cookie scoop is really good I really enjoy it I use it for more than cookies and I'm sure everybody can I recommend it to everybody
WOW~
Kohos . 3 months ago
Works great. Quality is great too. Some of the cookie batter will end up in the inside of the scooper. the swipe blade doesn't truly flush with the body but no complaints. Glad that it is dishwasher safe.
Works well
Michael . 5 months ago
I just finished using this scoop to make orange cookies. Works well, as easy to clean as any scoop with the slider. Need it to push the dough out, but obv makes it harder to clean!
Cookie scoop
BB&B Customer . 5 months ago
I love it. Makes it so much easier to make uniform cookies quickly.
BB&B Customer . 9 months ago
The small one is just the right size. Grip handle is very comfortable. My hand doesn't tire out using it.
Useful and great design
Beth . 9 months ago
I debated buying cookie scoops for a long time. Should have done it earlier! I have 2 sizes and they work fabulous for not only cookie dough, but gluten free rolls, meatballs, etc. I use one or both almost weekly. Keeps my hands out of the sticky dough and makes for uniform sizes for the oven and baking.
Worst OXO product I have ever bought
brokenscooper . 9 months ago
It's actually the only bad oxo product I have bought. It broke in my hands while scooping cookie dough last night. I will look for a better product to replace it.
Great for left-handed cooks
Estelle . 9 months ago
OXO tools are always top-notch, and the cookie scoops are no exception. Comfortable in the hand and terrific when you're left-handed. Strong and sturdy. Used them to make over 200 mini bundt cakes for a benefit and they were a God-send.
Large Scoop
Me . 10 months ago
I bought the large scoop and it works perfectly for muffins! Seems to work well so far, hope it lasts a long time!
I love cookies!
Superles . 11 months ago
I have this scoop in 3 sizes and they work really well. For years I just used a spoon, but now that I have used this scoop, I'll never 'spoon' again!
Cookie Scoop
Monika . 11 months ago
Wasn't big as I expected. Great scoop though :)
Perfect or making cookies uniform in size
DMC . 11 months ago
Makes my coking baking go much faster. Knowing all the cookies are the same size makes determining the bake time easier.
Cookie scooper
Susan . 1 year ago
I am not impressed with this item. Tried to make chocolate chip cookies and the mechanism continuously got stuck forcing me to revert to the teaspoon / knife method. Very disappointed!
Awful
Zam . 1 year ago
I would give this zero stars if I could. It did not work at all. The piece that is supposed to push the cookie dough out of the scoop would instead get jammed. And I wasn't using particularly thick dough. I ended up giving up and using it like a measuring spoon, using my fingers to release the dough, and then shaping the dough by hand.
Oxo Ice Cream Scoops
Rosarie . 1 year ago
I love these for scooping cookie dough & any kind of dough where you want the items to come out same size. They are easy to handle & easy to clean.
Tricia . 1 year ago
Most of my scoops make it one baking season before they are stripped and not working. So far, these have made to through two!!
Makes cookie-making a breeze!
Jean . 1 year ago
I can't believe I waited so long to get these scoops. Not only do they make my cookies (and meatballs) uniform, they sped up the process tremendously. Afterwards, I just put the scoop in the dishwasher and they cleaned up perfectly. I purchased all three sizes.
Great for scooping even sizes
Beth . 1 year ago
I ordered this larger size for using with a gluten free roll dough (very sticky) and using with spray oil. I have also used for cookies, muffins and meatballs. Very handy and easy to use and clean.
GREAT FOR ARTHRITIC HANDS
BB&B Customer . 1 year ago
The small cookie scooper was wonderful. It made it so easy to scoop the dough. I made over 8 dozen cookies during the holidays, and the OXO scooper allowed me to keep my hands clean and to make uniformly sized cookies.
Showing 1 - 20 out of 420 reviews