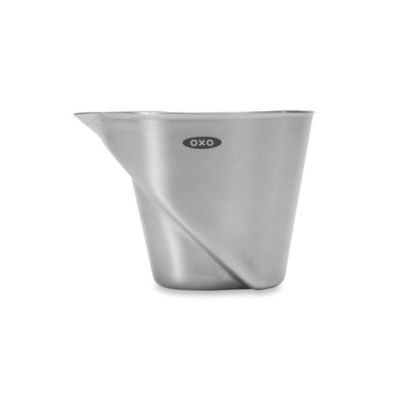 OXO Good Grips® Stainless Steel Mini Angled Measuring Cup
customer reviews
Showing 1 - 19 out of 19 reviews
Great Product
Tammie . 1 year ago
I ordered a second one as needed 2. Great product.
OXO Mini Measuring Cup in steel is useful addition
Kenneth . 2 years ago
I already had an OXO steel 2 Cup angled measuring cup from 2008 Also plastic OXO angled measuring 1 cup and 1/2 cup mini I feel the metal versions are more durable than the plastic
It's a Jigger not a full measuring cup
Ooops . 2 years ago
I didn't pay attention to the size and thought it would be a full measuring cup. No, it's a 2oz jigger for a bar. Oops. It's lovely. Well made. Just make sure that's what you were looking for haha.
Rusted after the first run in the dishwasher
Stephanie . 2 years ago
I like that I can measure easily with this cup, but it obtained a rust spot inside after one wash in the dishwasher.
drink mixer . 2 years ago
Durable, easy to read and pour from
Love the spout!
Cyndi . 2 years ago
I use this to measure essential oils for soap making. Easy to read measuring lines, stainless steel, plus a spout = perfect! Very happy that I found this.
Long lasting tool
Mavi . 2 years ago
Though not as see through than its plastic version, this stainless steel measuring cup is of better material and more heat resistant
perfect little addition for the kitchen
BB&B Customer . 2 years ago
Perfect if you make sauces or bake and need something that holds several tablespoons at once when measuring. It is much tinier than I expected- but I have ben using it regularly.
Best shot pourer
BB&B Customer . 2 years ago
I love this for making cocktails! It's easy to see the measurements and pours very nicely, no spills!
Perfect!
Patty . 3 years ago
Measurements remain intact unlike plastic jigger. Wish they were in store. Had to order online and it took quite awhile. Ordered for Christmas and came after.
Excellent product
Michael W . 3 years ago
I ordered this to go along with my new Dedica espresso machine and it's a great product, well made, easy to clean and use. Love it and it goes well with the other utensils I have to make espresso.
Bar Buddy
Randall . 3 years ago
great for measuring and pouring and matches other stainless utensils
Great quality
Jeri . 4 years ago
I bought this to replace my plastic small measuring cup because the measurements had worn off and it became hard to read. I like it a lot. The only issue is because it is Stainless it is dark in the cup so you need good lighting to be able to see the numbers. But thats ok because since it is Stainless I am sure it will hold up for a very long time.
Durable
Amandaaa . 4 years ago
I have several of these from OXO in plastic. I love this stainless version. Great little shot glass.
Great little cup
MountJoyMama . 5 years ago
I saw a bartender using this at a local bar and thought it would make a great measuring cup, as it had a spout on one side and several options for liquid amounts. It works great and is easy to clean.
Does the job
Coopie . 5 years ago
Perfect for my needs. Wanted exact measurements for expensive bourbon,.
High quality and fancy design.
Sanne . 5 years ago
Very fancy mini measuring cup. Handy and nice design.
easy to measure for mixed drinks
jimthewalker . 5 years ago
I have owned many shot glasses in my life. this is by far one of the best. same great OXO quality. easy to read scale. pours nicely.
Rusted, had to return for new ones
Jani . 6 years ago
I ordered two of these. Three arrived. They were rusted. I took them back to the store. They arranged to send new ones. The store wanted to charge shipping for it. So disappointing. Anyway, new ones are working for me.
Showing 1 - 19 out of 19 reviews