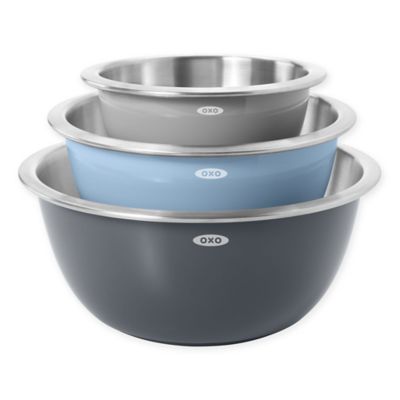 OXO Stainless Steel Mixing Bowls Nesting 3-Piece Set in Grey/Blue
Most Helpful Positive Review
Unslippable, unscootable, unslidable joy.
Tbonicus
.
8 years ago
Lotsa stuff to like about these bowls. But what you'll love is the rugged, thick, super-grippy black bottoms that follow the bowl's rounded hemispheric shape—instead of a typical square or circular edge. This is essential, because you can hold the bowl at any angle you find comfortable for stirring and the bowl WILL NOT SLIP. At whatever point the grippy bottom contacts your countertop—even if a tiny dot—the bowl will not slip You'll be amazed at how much energy you WON'T expend trying to hold a flimsy slippery plastic bowl in place. The special super-secret super-grippy coating they put on these bowl bottoms functions like powerful rare earth magnets that grip instantly to wood, plastic, porcelain, formica, granite, marble, tile and composite tabletops, countertops, dashboards and pingpong tabletops.
Most Helpful Critical Review
great but.........
AmberS
.
8 years ago
I received these for a wedding gift and after using them only a few times, I noticed scratches and rust on the bowls. After using a hand mixer (2 times max), I noticed little tiny scratches and rust spots. I attempted to clean them hoping it was just a little rust stain but no, its perminent. I loved the size, weight and no slip bottom but sadly I will be returning these bowls. I do not want them to look old and worn after only 1 month of owning them!! This would be acceptable wear and tear only after years of usage.
customer reviews
Showing 1 - 20 out of 176 reviews
Great product
Sheree . 2 months ago
These are nice, sturdy bowls. Exactly what I was looking for. I definitely recommend buying these bowls
Great Buy
Shermaine . 5 months ago
This is exactly what I needed sturdy and definitely will have for years

Perfect OXO bowls
CaliforniaSure . 6 months ago
I do love this set of OXO mixing bowls. The stay put and don't slide around on the counter when I use a hand mixer or stir. They have a nice lip that I can grab onto. , I LOVE my OXO products.
OXO 3 piece bowl set
Bub . 8 months ago
Great set of mixing bowls. Love the rubber bottoms so they don't move around when mixing in them. Highly recommend these.
Great
Donald . 9 months ago
Heavy duty, soild and still not bulky or heavy in weight. The top rim is nice for gripping and rotating. Has a soft rubber on the bottom of the bowl. Nice on the counter top for grip and without the noise.
High quality bowls
mrsbrasher . 9 months ago
I got these to review through OXO and they are the best measuring bowls I have used. The bottom has a grip so you can sit on the counter or table and mix, the bowl sits still. The inside is stainless steel. Anything I have mixed really doesn't seem to stick either. They are great quality like anything else OXO makes. I show them off any time I can
Originally posted on influenster.com
LOVE these bowls!
BB&B Customer . 10 months ago
I love these bowls - especially the non-slip bottoms and stainless steel in interiors.
Love the bottom grips!
BB&B Customer . 11 months ago
These are better than plain steel mixing bowls because they've got little grips on the bottom of each bowl. It helps them stay stacked and not scratch each other, and they hold to the counter better when being used. Really easy to use and have worked well!
Christmas Gift, but
Susan . 1 year ago
I received these for Christmas and love, love, love them! They are replacing my 40 year old set I have had since I was 18. They don't slide all over the place, fantastic! I just wish it had a bowl as large as my bread bowl. Maybe one day! You'll love them!
One needs replacing
Raven Queen . 1 year ago
Looks beautiful! Was just delivered but the big bowl came with a defect so I would like that one replaced. I really hate taking everything back when it's just one bowl so hopefully my local store will do that for me. Unable to rate at this time.

Originally posted on bedbathandbeyond.ca
OXO mixing bowls
Sheila . 1 year ago
Great bowls! As usual, great quality...
My Best Ever Mixing Bowls
Bed Bath and Beyond Customer . 1 year ago
These types of bowls are something I would usually never write a review about because it is such an everyday item. The set of bowls are made very well and are heavy enough to make sure that anything you're making will turn out great. In my smaller size kitchenette I needed to use the top of my refrigerator for holding my pots as well as my 2 Dutch Ovens and they now have a good place there as well. The bowls don't have the plastic lids for it and I appreciated it because I can use the silicone toppers I have already purchased. It is not only a very well made product that will help you with your cooking needs but also would make a very nice gift you can get for anyone on your gift list. You can never go wrong with this brand and mostly all of their products because they all are made very well. It is kuldip make a great gift for holidays as well as for a wedding gift.
Mixing Bowls
BB&B Customer . 1 year ago
Received the bowls today, back to making my thing that needed the bowls again, expecting the rest of my order soon. Looking forward to make smoothies again.
decent set of bowls-not really practical for cost
SAA . 1 year ago
i do like the set of bowls overall- they do not come with lids- for this very high price they should - good mainly for mixing up meatloaf or preparing things- but not for storage of meats or breads really since they are metal inside - to me they are mostly hype due to the name
Best Stainless Bowls!
AMD . 2 years ago
We have several Oxo kitchen products and they are always very well made. These bowls are no exception. These Oxo bowls are very high quality, have a sturdy feel, and the sizes are perfect for us. Took one star off due to the Oxo logo coming off the sides of 2 of the 3 bowls after only a few hands washes. Purely cosmetic but still an unexpected quality flaw from this manufacturer and at this price point.
Great product
Andrew . 2 years ago
The rubberish bottom prevents it from moving around too much, super easy to clean, highly recommended.
nice bowls
ma . 2 years ago
this bowl set is very sturdy and love the bottom grips. oxo is the best
the best bowls
Cassandra . 2 years ago
These are the BEST mixing bowls. I have 2 sets because I love them.
Great bowls
TTmom . 2 years ago
I was so happy to see these bowls back in stock. I purchased two sets. They really come in handy when holding my toddler while trying to stir things. The weight of the bowls and the silicone bottoms allow them to stay in place on the counter.
I love these!
BB&B Customer . 2 years ago
Exactly as described and what I expected
Showing 1 - 20 out of 176 reviews