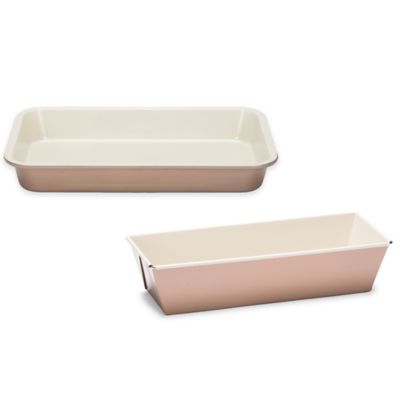 Patisse® Nonstick Bakeware
Unavailable
This item is no longer for sale online
customer reviews
Showing 1 - 9 out of 9 reviews
nice pan
SuziQ . 6 years ago
This size is hard to find. Personally, I would have ordered Rachael Ray, but this size only came in a set. The pan is lighter than I expected it to be. They also recommend lightly greasing the pan before each use, which I didn't expect for a nonstick pan. That's why it got 4 stars instead of 5. I don't have to grease my Rachael Ray, even when recipe instructs to do so, and nothing ever sticks. So get Rachael Ray instead if you have a choice. But I will keep and use this pan.
coffee2 . 6 years ago
Worked for a recipe I have, Ribbon Cookies. Could not find this size anywhere
Too big
Marla . 7 years ago
I was looking for an 8" springform. This was advertised as 8 1/2" , but is actually bigger than that--closer to 8 3/4". It looked like a nice quality pan, but was too big for me, so it went back
Awesome Springform Pan
EasyBaker . 7 years ago
I bought two of these so I can make cheesecakes in my Instant Pot, an electric pressure cooker. They work wonderfully! They are a very high quality pan and I love the non-stick ceramic interior. I definitely recommend these!
Very low quality - a waste of money
vtwice . 7 years ago
The non stick coating stained after cooking biscuits, that were not burnt, in it. It looks so bad that I will probably throw it away.
Warped & Twists
ChefMom . 7 years ago
This pan was slightly warped right out of the box. I decided to give it a try anyway. Once in the oven it twisted violently and threw my food all to one corner of the pan. Needless to say I returned it.
bent
jojo . 7 years ago
Recived slightly warped. First time in oven it twisted terribly. Slid food to one corner. Very disappointed. Need to return.
Great looking muffin pan
Judy7 . 7 years ago
The white finish looks great and will be easy to clean.
Attractive cookie sheet
Judy7 . 7 years ago
The cookie sheet is just the right size and very clean looking, with a light finish that should decrease over browning.
Showing 1 - 9 out of 9 reviews