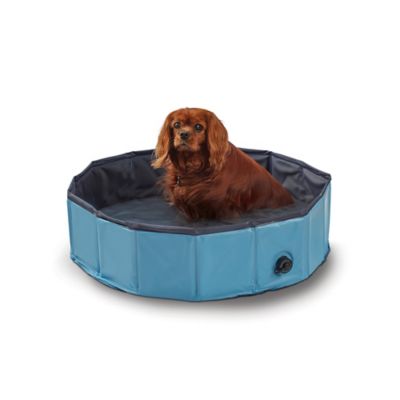 Pawslife™ Pop-Up Dog Pool in Blue
Unavailable
This item is no longer for sale online
customer reviews
Showing 1 - 16 out of 16 reviews
Will be returning
Pat707 . 4 years ago
Not big enough for medium size dog. Customer Service could not find lb. dog that pool was for.
Perfect Poolside Pool!
BrittanyT . 4 years ago
While we are swimming in our pool our little dog has his pool too! It is actually perfect for our little baby as well!
Very durable! This is the best pet pool ever!
Gunners Mom . 4 years ago
This is by far the best purchase for my puppy ever! He has torn up every plastic pool we bought and he can't find a way to damage this one! So for the price, it is very worth it!
Great and sturdy pool!
LeaJB . 5 years ago
I have an English Bulldog who loves to just sit in the water on hot days and this is perfect for just that. It is small, but the picture depicts the size well. I love how you can fold it up and put it away when done.
Great mini pool!
Gigi3 . 5 years ago
I actually bought this for my 15 month old granddaughter. It's perfect! The best part is that it folds up and goes back in the box when she leaves! So happy I didn't have to blow it up or have one more thing to store in the basement!
perfect for warm days
danaf12 . 5 years ago
perfect for my dog to hang out in when it's very hot outside. best for smaller dogs.
Great pool!
Becky . 5 years ago
I have had this only about a week, but my little Snorkie loves it. Because she gets hot and hunts water to cool off.
Great value
technologicallychallenged . 5 years ago
Durable, easy to clean, folds up and stores nicely.
Exactly as expected
technologicallychallenged . 5 years ago
Works great, no complaints.
Love It
Dee Dee . 5 years ago
I have used this for my dog and also for a small pool for my 1 year old grandson. The drain feature is wonderful. Very well made and folds in a cube when not in use.
Convenient to use
Janet . 5 years ago
Just take this out of the box and fill it up! My dog loves this. It's very portable too.
Just what i wanted to cool down my Charlie
Great Item . 5 years ago
Great Product, My dog loves this
Pawslife Dog Pool
Marilyn . 5 years ago
Because of so much rain, we have not be able to use it as yet. But can't wait. One Pom jumped in our Koi Pond. This is a much better way to get wet. Looking forward to using it.
So cute!
DogLover . 5 years ago
This fit our cute daschund and she loved it. Perfect for a hot summer day
Doggie bath/pool
Jonsey2018 . 5 years ago
Nice pool for small dogs and used as doggie bath for large dog too!
Nice cooling Feature for my Puppy
Patty . 5 years ago
Spring in New Jersey has not been the greatest, but on Saturday we finally had an 85 degree day, so I set this up for my 5 month or Cockapoo Cruiser, and he loved it so much. he had never experienced anything like and I think its safe to say he LOVED it so much and cant wait for another fun day.
Showing 1 - 16 out of 16 reviews