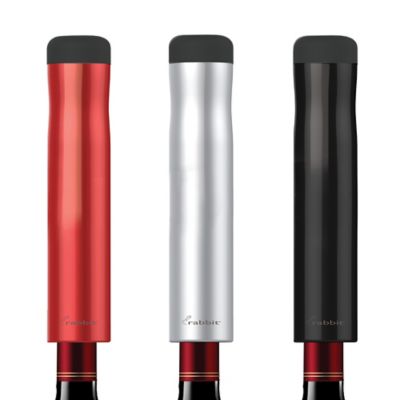 rabbit® Automatic Electric Corkscrew
Most Helpful Positive Review
Easiest Wine Opener EVER
Ambs
.
5 years ago
I am in love with this wine opener because there is literally NOTHING to it except holding it over the wine bottle! It senses the cork and goes after it, then, releases the cork afterword. Its cordless so can be thrown in the wine bag or picnic basket, and the charge lasts forever! Love it!
Most Helpful Critical Review
Stopped Working after only 2 months
dbeac1
.
5 years ago
I bought two of these as gifts. In both cases, they worked great for about 6 weeks. Then a cork got stuck in the unit and, even after extracting the cork, neither worked again. I will be returning them on behalf of the recipients.
customer reviews
Showing 1 - 20 out of 36 reviews
Love!
BB&B Customer . 2 months ago
I've had this for almost 5 years and no problems and so easy to use. The charge holds so well too!
Extravagant but great
Patrick . 12 months ago
Yes this seems like a silly purchase. Like what's wrong with a standard corkscrew, right? If you love wine, and if you really value pulling a cork straight and effortlessly, you instantly can appreciate the value of this handy device. Holds a charge for about two months of regular use.

Originally posted on bedbathandbeyond.ca
4 months later it died!
native . 1 year ago
Isn't a very good investment for the price, that's 10 bucks a month and dead in 4 months.
Love it!
Kevin Ray . 2 years ago
Super easy to use and works automatically!
Great Electric Corkscrew
BB&B Customer . 2 years ago
I have had several wine bottle electric corkscrews and this is the best. I've had this one for about 3 years and have not had a problem with it. It will take out about 95% of all different corks with no problem. The only ones that it won't take out are corks where the winery made some special bottle that the top is too wide. But it works great with all normal wine bottles. It also seems to have a lot of power.
Unreliable wine opener
Leonard . 2 years ago
Failed during first use. Attractive design but that doesn't help if it doesn't work.
Rabbit corkscrew
BB&B Customer . 2 years ago
It works great. Very easy to use and fast.
Intermittent working
Susan . 2 years ago
Sometimes it worked. Other times it didn't. Held a charge for a very short time. Had to return product after 2 weeks of trying to get it to work consistently
Auto Corkscrew
BB&B Customer . 2 years ago
It works great. Takes the cork out on the first try. Holds the charge longer than most electric cork screwa. I love it.
Does most of its job!
Kelly T . 2 years ago
Opener itself works just great (so far), but the foiler cutter is worthless. I also think the unit is a little pricey - $40. would be a fair price.
Auto Corkscrew
BB&B Customer . 2 years ago
It works wonderful. I had one many years ago but this one is much improved. It works much faster. No more wear and tear on my wrists.
Great Product
BBB customer . 3 years ago
I have had several automatic electric corkscrews and this has been the very best. I have had it now for several years and it still works like brand new. I would recommend this product to anyone who enjoys wine
Auto Corkscrew
BB&B Customer . 3 years ago
It works great. Very fast and is ergonomically much better thana manual corkscrew.
Terrible!
Gail . 3 years ago
The very first time I tried to use it, it wouldn't shut off. I had to let it go until the charge ran out.
So easy!
Virginia . 3 years ago
Quick, easy, no cork breakage! Fully automatic.
Cork is Stuck
CC . 3 years ago
I should have listened to the very negative reviews. Used 3 times and now cork is stuck and followed directions to remove to no avail. Very disappointed...
Bartenders love it!
SueSue . 3 years ago
We bought this as a gift to the bartenders at our favorite bar. They love it for making the job of wine opening so easy - no more fiddling around with a manual cork screw! Plus, it's a bar in a Chinese restaurant, so we got them the red one for good luck.
Do Not Buy!!
Deir . 3 years ago
I have now received two Rabbits, both of which worked twice before breaking. Don't waste your money on this product.
So Simple!
CT Winos . 4 years ago
Have only had this for a short time but so far works awesome and seems to be holding it's charge well! All you have to do is hold it over the bottle - everything else is automatic
Really handy, really reliable
MisterBen . 4 years ago
Same as above. I have opened a lot of wine in my time. Tried many types of openers / corkscrews, and this Rabbit is great in that it moves with you. It's lightweight and can be counted on.
Showing 1 - 20 out of 36 reviews