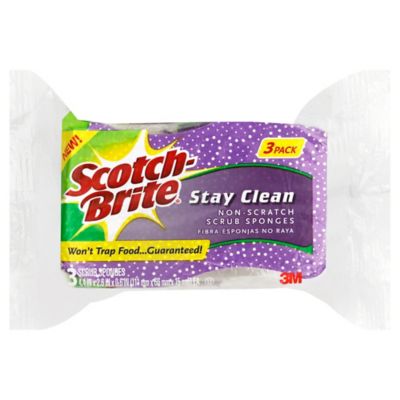 Scotch-Brite® 3-Count Stay Clean Scrub Sponge
Unavailable
This item is no longer for sale online
customer reviews
Showing 1 - 20 out of 86 reviews
Color runs, even after a few weeks of use
ChayaNYC . 5 years ago
I didn't expect a well-respected company like 3M to use such a low-quality dye that this sponge bleeds a light purple color when wet.
Love this little scrubbie
Savvy . 5 years ago
When I read the label I was like ok yeah sure. After 2 weeks of using this little sponge it is still going strong. Not only did it remove baked on chile but it's gentle enough to not scratch up my beautiful stove top or non stick pans.

Originally posted on scotch-brite.com
The sponge stinks
Monica . 6 years ago
[This review was collected as part of a promotion.] We got them Becuase they said resists odors. Its a lie. You use once and they stink so bad. Not worth the money. Won't be buying them again.

Originally posted on scotch-brite.com
Doesn't Scratch
southernFlair . 6 years ago
Love purple. The scrubber does not scratch your pans or counter. It is not a strong scrubber. The sponge is a sponge. Have used for a long time will buy again.
They work!
southernFlair . 6 years ago
Have used for a long time. Last. I put in dishwasher to clean then use again. They don't scratch. I use mainly to clean my counter and stove top. AND they are purple my fav color!!
Love this spong
Amanda in GA . 6 years ago
I have been using these for several years. As I was shopping today with my son for college he asked for this sponge for his apartment! he and I both agree these are the best around!!

Originally posted on scotch-brite.com
Doesn't get anything of plates, pots, and pans
socal . 6 years ago
wanted to like these, but it doesn't get anything off. I literally have to go back and catch things off with my fingers. Awful. absolutely no scrub power to it. always been happy with the blue ones. Now I have a pack of 6 I will basically throw out

Originally posted on scotch-brite.com
Leaking dye
Tiel . 6 years ago
I've used these sponges for years and loved them, but the last pack I purchased last week is a darker purple than usual and is leaking purple dye, very obvious as soon as I add dish detergent, it turns purple. Never seen this before. I had already thrown away the packaging so all I have are the sponges, which I'm not going to use, and reluctant to purchase any more. Is there any way to get them replaced? Or do all the new ones leak dye?

Originally posted on scotch-brite.com
Meh
LadyGhost . 6 years ago
When I needed some new Sponges, the hubby brought home these new "stay clean" Scotch Brite ones. I had not used them before and was keen on trying them to see if they were an improvement over the sponges I had been using.Here are my findings after using them to wash both heavily and lightly soiled dishes in two different households. First: They are fairly good at staying free of the crud that normally catches in the traditional scrubber top sponges, but small bits of certain starchy foods such as scrambled egg, cereals (oatmeal,Cream of wheat) Stick to the purple satiny material behind the white plastic scrubby dots with annoying frequency, and I find myself cleaning my sponge between plates. Flatware, if only lightly soiled come clean, but if anything has sat even a short while I have to scrub and scrub before it comes off. For teflon pans they are ideal, and I most certainly cannot complain, they are truly no scratch, however, if your pots, pans or anything else is covered in anything sticky or greasy, the sticky/greasy substance will adhere itself to the satiny material and smears like crazy all over the sponge and right back onto your just scrubbed item. I found myself cleaning the thing that's supposed to be cleaning my dishes rather than cleaning my dishes.... Overall it's a good concept, they fit in the hand well and are pretty rugged. Less crud sticks to this type of sponge than gets stuck "in" the old standard scrubber top variety. They clean lightly soiled dishes well enough. for the most part if you don't have really messy dishes, or if you have a set of precious teflon you are paranoid about scratching this is the sponge for you. Improvements I would suggest:The white plastic scrubby bits could be bigger, and maybe textured, and the satiny backing needs to go bye bye, its too "slick" and doesn't grip surfaces well, and crud adheres to it far too readily. Alas I do not think they will work for me.

Originally posted on scotch-brite.com
Nasty!
vicsno . 6 years ago
This sponge began to feel slimy after just 3 days so I tossed it in the dishwasher. That didn't help so it went in the trash. The "scrubby" part of this sponge holds food particles then becomes slimy after a couple of uses and it cannot be cleaned. Will not buy this product again.

Originally posted on scotch-brite.com
No good
psldolphin . 7 years ago
[This review was collected as part of a promotion.] These sponges have no scrubbing ability at all, very unhappy that I bought a six pack

Originally posted on scotch-brite.com
Horrible, bring back the Old Non-"PC" formula
Bed Bath and Beyond Customer . 7 years ago
Horrible last Scotch-Brite® Stay Clean Scrub Sponge, lasted over 3 years and was still going strong, until I cleaned a BBQ Grill. Bought a new 3 pack and denigrating after 1 week, horrible quality

Originally posted on scotch-brite.com
3m scrubbing sponge
ralph . 7 years ago
not as good anymore,i've been using this product for a very long time...now looking some other possibility

Originally posted on scotch-brite.com
Worst Sponges ever!
DebraAC . 7 years ago
These sponges are the worst I have ever bought - the top side is impervous to water, soap, etc. - nothing gets through it. You can soap it till your blue in the face and the soap slides off. Only the sponge side holds any suds. Horribly slippery and smooth on top, barely cleans.

Originally posted on scotch-brite.com
Not quite there
shimmy . 8 years ago
Smart idea of using raised bumps as scrubbers instead of a food-trapping matrix. However, the bumps just aren't strong enough I find. I often have to laboriously scrub an item, that I could have easily scrubbed off with the blue non-scratch sponge from Scotch Brite that I usually use. Sometimes the burnt-on item more raised than the bumps on this sponge, so it's essentially futile trying to scrub it off with this. Also, the bumps wear done. Bottom line is, I'm going back to the blue non-scratch sponge because it does the job better and quicker. The blue non-scratch sponge is a great product; please do not replace it with this Stay Clean line!

Originally posted on scotch-brite.com
Sponges Damp When Opened Package
PaT39 . 8 years ago
When I opened the package of 3, the sponges were damp. This doesn't seem to be correct, it would seem that packaged in plastic bacteria would grow.

Originally posted on scotch-brite.com
Good Idea, Brief life
Sgregoire502 . 8 years ago
Ive gone thru three of these things in less than two weeks! The scrubber pad on the sponge works well but then it falls off the sponge within days of its first use! You might get two or three uses before the scrub pad just rolls off. I used nothing but Dawn dishwashing liquid and hot water.... no other chemicals.

Originally posted on scotch-brite.com
Stays together and clean
cathy1967 . 8 years ago
The stay clean sponge works great. I use them for dishes and for cleaning the bathroom and kitchen. They work very well and do not fall apart.

Originally posted on scotch-brite.com
Not a Good Sponge
zoomer123 . 8 years ago
So the rough scrub side becomes smooth and slick after a week or so and dish soap does not get absorbed on the scrub side. The sponge side is too soft, just does not do a good job cleaning.

Originally posted on scotch-brite.com
It bleeds purple,
MarciaKS . 8 years ago
I bought these a few days ago and decided to try one out today. So, I threw away the long lasting blue sponge and began using the new purple. After washing some pots with a mild dishwashing detergent, I rinsed the new sponge with clear water. Shortly thereafter I noticed some purple spots in the white sink. I rinsed the purple away and then I rinsed the sponge again. When I squeezed the water out, purple again appeared. Disappointing.

Originally posted on scotch-brite.com
Showing 1 - 20 out of 86 reviews