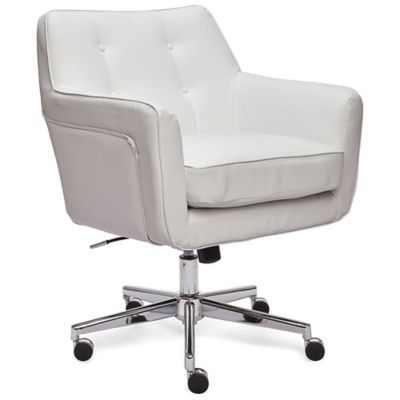 Serta® Ashland Upholstered Office Chair
Unavailable
This item is no longer for sale online
customer reviews
Showing 1 - 5 out of 5 reviews
Look elsewhere
JudyMcGoo . 3 years ago
Easy to assemble, fabric will stain easily, cushion collapsed in a week, and I'm only 115 lbs.
Love the Color but Serta lacks Comfort & Support
DesertRose . 4 years ago
Love the lavender color but for Serta and price, I expected comfort and support. These chairs aren't as supportive or as comfortable as chairs half the price but they are aren't uncomfortable so I'm keeping them as the color is perfect for my back office that is seldom used.
Decent chair with some issues
ebetty . 4 years ago
The chair is decent. It has a strange cushion over hang, but is still comfortable. Be warned, if you order the LINEN color chair, it is NOT upholstered. It is some yucky vinyl pleather thing. It took me a while to realize that something was off about it! I really wish I would have returned it.
Great comfort
JosephAnn . 5 years ago
Very comfortable with great support. The seat is nice and deep, meaning from backside to front and supports my legs almost to my knees. I have long legs and this is important to me. The arms are very comfortable and it fits nicely under my desk. Love the fabric so much better than vinyl. I ordered the lilac color only because it was so much less in price. It is quite neutral and works with any color scheme. It assembled very easily, I am 66 yrs old and had no problem in assembling it myself.
Not upholstery but pleather
Andrea576 . 5 years ago
It looked it it would have been comfortable but the white was not linen upholstery that it said it would be. It is vinyl, which looks like leather but is not. So I had to returned it. White vinyl is hard because sometimes blue jean's dye will transfer onto the materal..
Showing 1 - 5 out of 5 reviews