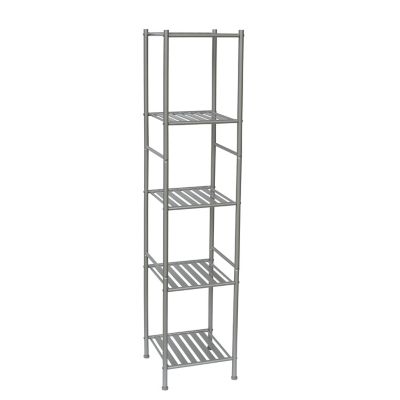 Simply Essential™ 5-Tier Bath Tower in Silver
$31.50
was $45.00
(30% off)
$25.20
Get 20% off & earn 5% back in points with Rewards™+
Enroll Now
Most Helpful Positive Review
Perfect Fit
BBB Customer
.
1 year ago
I had been looking for a narrow shelf for my bathroom towels but needed no more than a 12 inch width shelf and this one was perfect. Very simple to assemble. Thank you BBB for having exactly what I needed. Love it
Most Helpful Critical Review
I would pass on this one
MySharonna
.
1 year ago
There are many similar shelving items out there that are better. I would look around before buying this. It took 30 minutes to assemble. Packaged with labels on the plastic, so no stickers to remove, except for one - and it left a lot of gooey gunk behind that even Goof Off would not remove. However, parts were labeled well and the instructions were clear, so only took 30 minutes to put together. Came with all required parts, even the screwdriver. It is not very sturdy, and honestly does not hold as much as a similar shelf I have made of particle board and veneer that has adjustable shelves. It has ended up in my son's closet to hold sweatshirts, sweatpants, or whatever he throws on it. I have it in a corner in his closet to provide much needed support.
customer reviews
Showing 1 - 20 out of 32 reviews
More than I expected
BB&B Customer . 1 week ago
Works so well in my bathroom I searched for years and am ry happy with this product
Cute Bargain Buy
Momzilla . 3 weeks ago
4 stars because I'm skeptical of it tipping over. It's very light. I put heaviest weighted things on the bottom shelves to weigh it down. Looks great. Clean aesthetic. Fit well in my bathroom. Worth the sale price.

Bath tower
BB&B Customer . 2 months ago
I love this product. Easy to put together and sturdy.
Put together well and strong
Robin . 2 months ago
We're using this to display things for my craft shows. It puts together easily and well and is strong standing outside my tent.
Kathy . 2 months ago
Great for bathroom stora
Bath Up, Bubbles down!
Fruityloops . 2 months ago
Excellent assistance from cashier and the young man that retrieved my order. Store is clean and organized!
Very good product
IBrandon . 3 months ago
Very easy to build comes with everything you need and looks beautiful. Good quality and great price!
poor fitting pieces
bookandwinek . 5 months ago
incredibly annoying when pieces do not fit

Perfect fit
Elisa . 9 months ago
I am pleased that this product was sturdy and size just made to fit perfectly at my bathroom corner. Great addition for extra storage! Thank you
Nice shelf
BBB CustomerLBaz . 9 months ago
Came together easily, the silver colour is more of a brushed nickel; which was perfect! Levelling feet at bottom so no tipping. Overall I would recommend, purchased with a 20% off coupon!
Small bath tower
Gina . 12 months ago
Read the dimensions lol...it's so tiny
Nice tower
LVjrsgrandma . 1 year ago
This is a perfect fit for my small bathroom! The number of shelves is great!
Very Substantial Tower
Sandra . 1 year ago
I wanted a narrow 5-Tier Tower for my laundry room. I was able to assemble myself ... took some time but little by little got there. They said not to tighten screws too tight but you have to tighten somewhat in assembly otherwise it won't hold straight. Once done ... I tightened and so far it's holding very well even with jugs of laundry detergent and cleaning supplies. I would recommend this product.
Loved it
Tanya . 1 year ago
Worked exactly for what I wanted and very stylish
Towel shelves
BB&B Customer . 1 year ago
Easy to assemble and great for lightweight items
Great space safer
BB&B Customer . 1 year ago
Glad I ordered this bath tower very easy to put together, holds a lot of towels I roll My towels like spa towels and it looks great Safes a lot of space
Lance . 1 year ago
best item i bought this year!
That one review
Ms G . 1 year ago
So at first the reviews mixed threw me. Yet ! The one review stating don't screw in tight until the last shelf is on. I followed their advice and waited til the end and went back to each shelf and them tightened and it became sturdy n much better.
Easily assembled (better with two people)
Judy . 1 year ago
Solid and fits in my narrow space.
Love it
BB&B Customer . 1 year ago
Easy to put together and looks nice in our bathroom.
Showing 1 - 20 out of 32 reviews