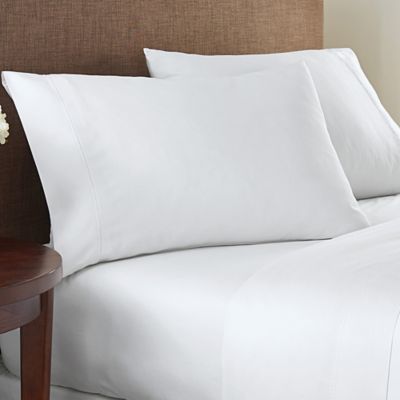 Solid Cotton Queen 1200-Thread-Count Sheet Set in White
$71.99
Get 20% off your entire purchase with Welcome Rewards™+
Enroll Now
Most Helpful Positive Review
Best Sheets
BBB Customer
.
1 year ago
If you're searching through reviews to find great sheets like I was, these are the ones! Excellent quality, not thin! Wrinkle free when comes out of the dryer. Soft quality cotton feel. Probably get softer with more washes. Excellent sheets, glad I picked these ones!
Most Helpful Critical Review
I wish I had read the reviews
Anthony
.
1 year ago
If you notice, the vast majority of the reviews are paid for. These sheets absolutely do NOT feel like 1200 thread count; they're more like 400 at most. Very disappointed. The quality is fair at best, as the threading and overall craftsmanship is bad. I do not recommend these to anyone looking for quality sheets.
customer reviews
Showing 1 - 20 out of 61 reviews
NOT solid cotton!
Abigail . 3 weeks ago
Why would you say something is SOLID Cotton when half of it is polyester?? I ordered thinking they were 100% cotton because thats how the name reads. If you dont want polyester in your sheets, don't order
Knock off
Amanda . 4 weeks ago
I ordered a set of king size white wamasutta sheet set and received a knock off brand. Highly disappointed
Not 100% cotton.
BB&B Customer . 1 month ago
I did not thoroughly enough read the fiber content. I sent them to my son for Christmas, and like me, he wants pure cotton. He noticed before unwrapping package. He returned them to BB/B to get closer to what he wanted.
The best
Cathy . 3 months ago
These sheets fit and do not have corners that slip off. Nice deep pockets for newer mattresses. The fabric is soft and very comfortable. My guests always want to know where I purchased them.
disappointed
lauri . 4 months ago
I was looking for pima cotton Wamsuta Queen sheets set, these came up in the search, nowhere it said these are Cotton and Polyester. I got them by accident, returning them. Don't waste your money.
Very Disappointed- Don't waste your money
KerB . 4 months ago
These sheets are way overpriced for the quality. They're not soft at all and the 1200 thread count is not accurate.
missing
Michelle . 4 months ago
please ship to store and I will pick up.
Horrible
meahd . 5 months ago
1200 Thread count? I could TELL how cheap these felt when I put them into the washer. Did not fail to amaze me when I put them onto the bed. Feels like poor quality hotel sheets. My 600 thread count Egyptian Cotton Wamsutta sheets (that ripped sadly) were better quality than this. Maybe because it's part polyester. Who knows. Return them if you purchase.
I love them
KrikTX . 5 months ago
I read all reviews and took a chance. I love these sheets. The are soft and thick and stay on my adjustable bed. I have a lab and pitbull that are in my bed and when they jump in with dirty paws it wipes up easily.
EXTREMELY DISAPPOINTED AND UPSET
Tlpatt . 5 months ago
I purchased these sheets before reading the reviews and after I definitely started to regret it. But I decided to give them a try as I'm not a huge sheets snob. For one it says right on the tag that they are 45% polyester. First disappointment. Second they do NOT fit my king size bed. This is absolutely ridiculous for the cost I paid to purchase them. I'm extremely disappointed and upset.
Very High End Sheets
Sheet Expert . 6 months ago
These sheets are very soft and yet have a nice weight to them. They compare quite nicely to sheets costing four times as much.
Soft sheets but will not stay on mattress
Jessica . 7 months ago
The sheets are soft but almost slick-i have no idea how to describe it. The biggest issue is our mattress is not so thick it shouldn't be able to fit these sheets. However, every morning since we've put them on, one of wakes up on just the mattress pad and the other wakes up cacooned in a fitted sheet. I would not purchase these again. They were on sale when I bought them and I think I know why.
good sheets
SaraMI . 7 months ago
These are mine and my husbands new favorite sheets. They are soft, good quality and fit on the bed really well. Will be ordering more!
awful sheets
Elizabeth . 10 months ago
Would not recommend these sheets. The fitted sheet doesn't stay on our mattress, the top sheet isn't long enough so it doesn't stay tucked in, and I hate the feeling of them. Waste of money.
Certainly NOT my favorite sheet purchase!!!
BB&B Customer . 10 months ago
These sheets are average at best. I could have down the road at Wally World for less. They are a thin average sheet material, 1250 thread count? This is a cheap set of sheets dressed up to look like a good quality sheet. I have had 900 ct sheets that FAR surpass these. Tired of advertising mumbo jumbo, just wanted a good quality sheet set at a good price…these are neither!
Egyptian Cotton Sheets
Brian in Real Life . 10 months ago
This is everything I hoped it to be and more. The money spent is worth every bit! I will definitely invest in more.
Very Smooth
James . 11 months ago
These sheets are really smoot and comfortable. I love them. Great buy!
pills / balls up within 2 months / awful!
Review . 12 months ago
I purchased these sheets less than 2 months ago and I already have little pills / balls making it very uncomfortable!! The fit is great! I love size of top sheet! But the quality is just not there! No sheet should have wear like this, that fast!
Great, Silky, and Crisp Sheets!
Alexandr . 1 year ago
The sheets are superb for my taste of course! I love a good thick, crisp sheet that feels expensive and look expensive as well. The cost worries me though. But after getting them. No regrets!
Sleeping in a cloud
Kim . 1 year ago
These sheets are the most perfect I have ever found. Love the extra set of pillow slips too!
Showing 1 - 20 out of 61 reviews