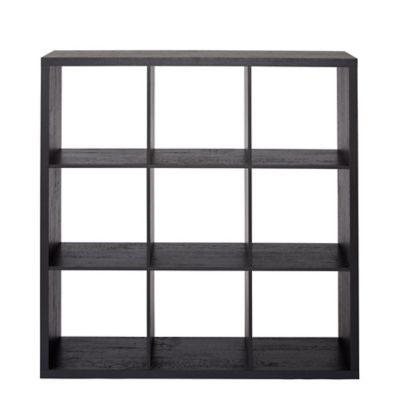 Squared Away™ 9-Cube Organizer in Raven Black
$88.00
was $110.00
(20% off)
$66.00
Get 25% off your entire purchase with coupon!
Enroll Now
Most Helpful Positive Review
Book lovers new favorite shelf in studio apartment
Kim
.
1 year ago
This cube shelf, once put together, looks amazing for my apartment's aesthetic. There are a few cons. The corners are extremely sharp on this. I am planning to buy some corner bumpers so that I and my cat don't get scratched on them. It was also tricky to assemble, granted if you have two people, I imagine it's much easier to do. On my own, I found pieces kept slipping out while I was trying to put in others. Screwing things in was also a bit tricky. My hand was sore mid-build, but I found that rotating the L shaped tool so that I was holding the long end worked best for all screws. You may have to pull the tool in an out to do that for the side that is nearest the floor since the long end can't rotate into the floor. This tip will make more sense once you try assembling, I promise! Despite the frustrating assembly, I'm thrilled with the end results. It's so sturdy and looks high quality. There are a few weird marks, almost like someone dragged a marker on it lightly in a few spots during production. You don't notice those unless you are super close up though. I filled my shelves with books and don't notice those little things anymore.
Most Helpful Critical Review
Weight capacity completely different
Nuna
.
1 year ago
Online details say each cubby is 15lbs and top shelf is rated for 80 lbs. Great! Put it together and at the very back of the instruction manual it has the top shelf rated for 35 lbs. Seriously guys? Not cool.
---
Hi, the weight capacity of this item is 235 lbs and the weight is 53.46. For further guidance, please contact manufacturer&#39;s Customer Service Monday-Friday 8:30AM-5:00PM EST at 800 468 5277. A representative can help troubleshoot your concerns. <img src="h...
customer reviews
Showing 1 - 20 out of 43 reviews
NO HARDWARE IN BOX
Kimberly . 4 weeks ago
Have been waiting and waiting for weeks for the hardware to come from their warehouse.
Such a Disappointment
Charlene . 1 month ago
This entire piece fell apart. Once we finished it, it fell to pieces. I tried doing it again and still the same result. So, I had a family member help me and put it together for me and same result. So disappointing
Missing all hardware
Kimberly . 1 month ago
And the store is closing so there aren't anymore to exchange for and now there aren't ANY BB&B close to me. Glad I cancelled my membership, I doubt I will continue to shop there.
Sturdy, great Quality
Drewmet . 2 months ago
Better than expected. I would order again.
I've got 3 now
BBB Customer NH . 2 months ago
I had purchased this unit within the past three months for my kitchen cookbooks and smaller appliances that do not fit in cupboards since I had to down-size my house. I bought a different unit from another store, thinking it would be good for my bedroom/office space and was not impressed. It felt like moving it to another spot would make it break. These u it's however are super sturdy. I bought two because I have some cute storage boxes for my office supplies and a lot of books.
Perfect!
Vcolman . 2 months ago
Easily assembled and perfect for displaying and organizing my yarns and craft supplies!

Super cute
Mama0527 . 3 months ago
I got this for toy storage in my girls room. Super easy to put together even by myself, nice looking quality. These other low star reviews must have received seriously defective products because mine is amazing. I am buying another for my room too. I ordered the espresso color and it fits perfectly with our country style decor. Nice and sturdy. Doesn't feel cheap or look cheap
Decent especially when on sale
JAT5 . 3 months ago
Not bad when on sale! An electric screwdriver is super helpful but not necessary for assembly. Got this to hold my board game collection. The espresso color is darker in person than the sample image suggests. The wooden dowels uses in assembly can break so be careful when doing that part of the assembly.

Weight capacity completely different
Nuna . 7 months ago
Online details say each cubby is 15lbs and top shelf is rated for 80 lbs. Great! Put it together and at the very back of the instruction manual it has the top shelf rated for 35 lbs. Seriously guys? Not cool.
Love it
Patricia . 8 months ago
I love the shape, color and sturdiness of the cubed storage unit. No problems so far.
Poor design and quality control
James . 9 months ago
Right out of the box these laminated panels have streaks and smears on the printed grain which are unsightly. But the real failure here is in the construction... The organizer consists of four vertical panels, with six horizontal shelves held in place with wooden pins, and the whole thing is sandwiched together by the top and bottom panels, which are the only ones which fasten with screws. You MUST assemble this lying on its side, or you WILL shear off the wooden pins, I guarantee it. I tried to assemble standing up, sheared off several of the wooden dowel pins, and eventually put 3" deck screws into the sides, which held the shelves very firmly to the outer vertical boards and allowed me to position everything to fit in place. I shudder to think how many people may have attempted to build this standing up and experienced the same issues, and I was fortunate enough to have a garage full of deck screws and tools to improve my own, in my opinion better solution. The instructions don't make this exactly clear and, in fact, the illustrations show the panels as if they should be assembled standing up. The tolerances on the vertical panels are bad, such that when you fasten the top and bottom panels to the two vertical panels you will find a gap of 2-4mm that you have to close on one end, at least this was the case with mine. I cranked down the screws to pull everything together tightly, but all I've done is bow the top/bottom boards across the two center boards, which are slightly longer than the boards on the sides. :( I want to emphasize that, even if assembly had been flawless, the poor quality control and lack of plastic coverings or protection for the printed laminate surfaces left me with shelves that, out of the box, are scuffed and smeared, and not in a good way. If it was the manufacturer's intention to create a rustic, distressed look they failed here.
Love the look
Kari . 9 months ago
Very sturdy, easy to assemble
Difficult assembly
Drjudy . 10 months ago
Once together a nice unit Almost impossible to assemble without help because wood pegs are flimsy. Better luck when I put gorilla glue in peg holes.
The perfect appliance organizer!
Kevin . 10 months ago
Great fit and look. Sturdy build.
Excellent!
Carol . 10 months ago
I ordered this after waiting a year to receive a dresser that never arrived. Figured I'd use this instead. I was pleasantly surprised at the quality. The directions for assembly were easy to follow. The color blends well with my other furniture and it's sturdy. Thumbs up!
Just right!
Dawn S . 10 months ago
I have been looking for something to put in this odd spot... I found it! Easy to put together, follow the instructions. If you have a drill with that funny bit it's much faster and easy on the hands. Now I just need the bins.
Horrible piece of very cheap furniture
Julie . 10 months ago
The pieces to this are a very lightweight particleboard, even states in places on the instructions "sturdier, easier, friendlier component". Certainly lightweight, and except for the 4 top and bottom corners are supposed to be put and held together with particle board dowel rods, which easily collapse. These dowels are flimsy and like particle board, crumbles when weight is put on them. And these are supposed to hold this 9 cube unit together?? I am so leary of using this, have no idea how long it will hold together or last, but I will not be buying another Squared Away organizer. If Bed Bath and Beyond is trying to get into the "Ikea" niche, they are absolutely going about it the wrong way. Never again!!!
Great shelving for the mud room
BB&B Customer . 11 months ago
Love this shelving unit! Perfect for our mudroom to add baskets for winter gear and shoes. Exactly what I was looking for!
came damanged
Samantha . 11 months ago
Looks like it would be a really nice shelf however it arrived damaged. There is a hole in the side panel.

BB&B Customer . 11 months ago
pretty easy to install, i had no trouble with the dowels. also love the little wooden stickers provided to cover up the letters for the steps. too heavy for a wall but perfect in size for storage.
Showing 1 - 20 out of 43 reviews