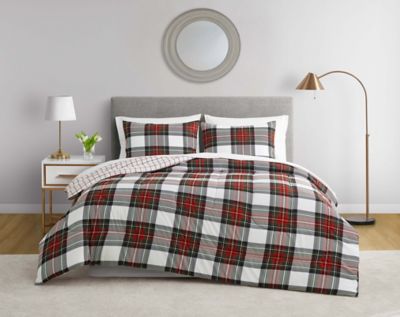 Stewart 8-Piece Reversible Comforter Set
$17.50
was $70.00
(75% off)
$14.00
Get 20% off your entire purchase with Welcome Rewards™+
Enroll Now
customer reviews
Showing 1 - 19 out of 19 reviews
gladys . 6 days ago
one wash broke
Perfect fit!
Bferguson . 1 month ago
Christmas present for my neighbors....they loved it!
New Christmas Blanket
Kaye . 3 months ago
This is Awesome, fits Great! It took a Month to receive it, but I love how it looks and fits! And 3 days before christmas!
Nice but……
Wilma . 3 months ago
This comforter is pretty but not a true California king it barely if my bed
Good looking overall
Chabuz . 3 months ago
Although this set isn't great quality, it does give the overall look for which I was striving. Classic plaid is beautiful! I was also pleasantly surprised the sheets fit my bed well! I have ordered several CalKing sheet sets in the past that hadn't & to have it included as part of a set was a great bonus!!

Warm and comfortable.
Bed Bath and Beyond Customer . 3 months ago
The comforter is very warm and comfortable. Great look for the winter.
Wish I had found a cotton comforter instead
JT . 3 months ago
I didn't care for the slippery feel of the fabric. The inner filling shifts and it feels cheap.
The comforter, sheets and pillow cases are soft.
Mary Ann . 3 months ago
It's a beautiful 8 piece reversible comforter with sheets that fits the bed excellent!
Great Neutral Holiday Bedding and Great Price!
Bed Bath and Beyond Customer . 3 months ago
This was exactly what I was looking for when decorating our bedroom for the Holidays! And the price was amazing. Love it.
Not a good choice.
Grandma1948 . 4 months ago
This appeared to be substantial when I read the description, but its not. I washed the sheets and they were too thin to use. The pillow cases were better. The comforter is very light weight and good for an occasional use in s guest room. Pretty disappointed but had to use the comforter as we were having guests or I would have returned it.
Temporary decor, makes a good photo.
Swampmom . 4 months ago
The sheets and pillow cases went straight to Goodwill. They were cheap, thin fabric and being cream colored, they don't even match either side of the comforter. The comforter and pillow shams are also cheap, thin fabric, but will be okay, combined with other bedding, "just for show" during the holidays. I paid a very, very low sale price, otherwise I would have returned this set.

BB&B Customer . 4 months ago
So Nice and cozy - looks festive at Holiday
Low quality product
BB&B Customer . 4 months ago
The comforter looked good in the pictures but we were disappointed with what it turned out to be. The comforter material is thin and the opposite of cozy. It feels cheap and I'm sure won't last long once we start washing it.

Originally posted on bedbathandbeyond.ca
This comforter set is terrible.
BBB customer never again . 4 months ago
Bought this comforter in Black Friday, had an allergic reaction on Saturday to whatever they put in it. Be aware of buying this comforter set. It's been two weeks now and still breaking out in hives every day after 2 steroid shots and steroid medicines. Very cheaply made, feels terrible, and had something that apparently cause my skin to be very sensitive to it and I'm a mechanic with rough and tough skin. If I could give this set a 0 , i most definitely would.
Welcome addition
Toots . 4 months ago
Just what I wanted. Lightweight and warm. Love the colors and that it's reversible.
Horrible - terrible quality
L Farmer . 4 months ago
Very dissatisfied with this purchase. Now I see why it is on sale. Arrived with frayed threading on the shams. Didn't notice that until I had already placed the comforter in the wash but I didn't even wash the shams. After I pulled it out, all the stuffing was bunched to the top and the threading was pulled together. After some finagling, I was able to make it look kind of decent but, there are parts that have no filling whatsoever. The print looks very pixelated, which is unfortunate. Would NOT purchase again! If you are skeptical about buying this, save your money and find something of better quality, it even feels cheap. So disappointed.

Poor quality
BB&B Customer . 4 months ago
I got the set for $60 on Black Friday. Looks good from a distance or for staging. Poor quality overall

Originally posted on bedbathandbeyond.ca
poor quality
alpr . 4 months ago
Not good quality or material
Very lovely
Timothy . 6 months ago
Very happy
Showing 1 - 19 out of 19 reviews