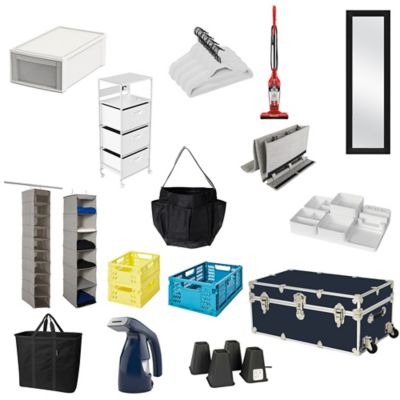 Storage, Cleaning and Laundry Complete Dorm Room Collection
Most Helpful Positive Review
perfect
Alaina
.
1 year ago
My room is small and I had to recently downsize so raising my bed was the solution. It's super sturdy. I was concerned it was going to break but it didn't. I have a full size wooden bed and a luxury 100lb mattress. Supports it well. It says 350 limit and that scared me but it's still good with me on top I'm 210lbs and my boyfriend who comes over is 160lb . No creaks or movement. I finally had room to organize some boxes and stuff under bed. Love it but it'd be even better if they could stack.
Most Helpful Critical Review
Not great
daradare
.
1 year ago
This caddy looks like a good idea for cord management but just doesn't meet expectations. If you loop cords through the bottom, as designed, then cords are sticking out of the top. Any kind of organization you were attempting doesn't happen.
customer reviews
Showing 1 - 20 out of 453 reviews
Works
Paulette . 6 days ago
Hangers are nice but top comes loose. Would not use with heavy items, eg, out wear coats and jackets otherwise workable.
Vaccum
Erikecal T Sheely . 7 days ago
Its ok, not my favorite, my daughter dont like her either
Shoe organizer
Bruce . 2 weeks ago
This is a nice product, sturdy and well made. The only issue is the compartments are too small for clothing or large shoes. We use it for sandals and flip flops.
Lightweight
BB&B Customer . 2 weeks ago
I bought two and they keep breaking. You can't even fill the rod with clothes because then it's too heavy and it cannot sustain much weight.

Originally posted on bedbathandbeyond.ca
Love my Dirt Devil.
BB&B Customer . 4 weeks ago
Lots of power for a smaller vacuum. Much better than battery power. Light weight, easier to store. Only criticism is where you wrap the cord. You start to wrap where cord comes out of vacuum and there is a tight fit.
Keep it organized
MeMawz . 4 weeks ago
This is a 4th purchase of these hangers ! I love the way it cleans up My closet. No bulky hangers anymore & nothing slides off ! I won't have another hanger in My closet.
Clothes stay on hanger
Gary . 4 weeks ago
I use these for my tops and for my husbands shirts. I have purchased many more sets because they work.
Dirt Devil stick vacuum
Sheila G . 4 weeks ago
Love it
Disappointed in purchase!
AFashionIsta . 4 weeks ago
I purchased this item. The first time it did not drip as much. The second time was really bad.
works great for t-shirts
John . 2 months ago
this really saves hanging space. You can also put shoes in it as well.
Sturdy storage!
BB&B Customer . 2 months ago
Great product for the price.
Squared Away
DANETTE . 2 months ago
This item did not come with the hangers so it is impossible to use.
BEST purchase ive made for my home.
BB&B Customer . 2 months ago
I bought these alongside a few more space saving hangers and these by far have been my favorite out of all of them. I currently live in an apartment with limited storage space so i was working on conserving space alongside organising. These have been the most useful for that and honestly, never loved my closet more. I got 3 of them. May even purchase two more or buy some for my mom lol
You get what you paid for.
SoSad . 2 months ago
Dirt Devil advised it might take 2 people to remove floor attachment. Not very practical. Mfr cannot exchange as was not purchased directly from them.

Great product.
gmt . 2 months ago
Very easy to use, they stack well and are a quality product. I would highly recommend if you are looking for small crates!
Double Hang Clothes Rack
BB&B Customer . 2 months ago
Love this rack!
save your money
BB&B Customer . 2 months ago
Hair gets stuck in the wheels
Pukes water
Dave . 2 months ago
Very disappointed it was good to start with. Now after using it few times it pukes water and makes the clothes wet. Will return it. Not recommended.

Great for light use. Collapsible and stackable.
SamKy . 2 months ago
We use these crates to contain my toddler's ImagineX figures. Easy to assemble and easy to breakdown. I love that you can fold it when not in use. It is also stackable. This will be great for light items. Definitely recommend!
Nice extra storage
Cookie . 2 months ago
Great for extra storage has a lot of space to put stuff also can use for under the sink just love it
Showing 1 - 20 out of 453 reviews