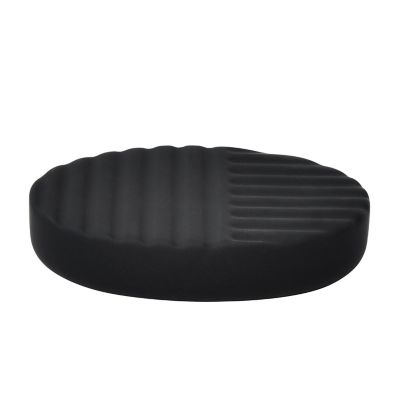 Studio 3B™ Rubber Lines Soap Dish in Tuxedo
$3.00
was $10.00
(70% off)
$2.10
Get 30% off & earn 10% back in points with Welcome Rewards™+
Enroll Now
customer reviews
Showing 1 - 6 out of 6 reviews
Not for me
Connie . 3 months ago
I like the shape and color. But because of the name "rubber lines" I expected the soap dish to be made of a soft material. Instead I think it is made of ceramic not rubber or some other soft material. I prefer something that won't break if dropped in a sink, shower or tub.
Great textured soap dish
BBBT . 3 months ago
This soap dish is really well made with a nice rubberized finish over the ceramic. Also the design is modern with clean lines. It is a nice shape that does well holding all shapes and sizes of soap.

perfect soapholder
jmc . 3 months ago
This soap dish goes perfectly in my guest bath. The color blends very well with my beachy bathroom decor. the ridges on it make it easy to grab the soap and also to keep the soap from sliding off of it. I'm really pleased with this product.
Great for face soap
Courtney . 3 months ago
This chic black glass soap dish is just what I was looking for to keep my charcoal face soap dry in between uses. It is sleek and modern, but also functions to keep my soap from becoming a sludgey mess. Blends in well into my bathroom.
soap dish
me . 3 months ago
I received this soap dish hoping that "rubber lines" meant the whole thing would be soft, or at least plastic. It's definitely breakable and not something I would want to use on the countertop holding my soap as I am afraid it would too easily fall off or get knocked off, chipping the sink or even counter. Yes, I am much more focused on function than fashion. But if that is not something that concerns you, it is a nice looking soap dish. Seems sturdy and not lightweight.
DO NOT BUY!
Very disappointed . 4 months ago
Advertised as "ceramic and rubber". It's ceramic, with a super, minuscule layer of paint that gives it the feel of rubber. The "rubber" started to flake off as soon as it got wet, leaving a huge mess in the shower. Again, it's ceramic, not rubber, and the slightest nick into anything solid will chip/crack the ceramic. Returning along with matching soap dispenser. The paint on dispenser also started to flake off as soon as it got wet.
Showing 1 - 6 out of 6 reviews