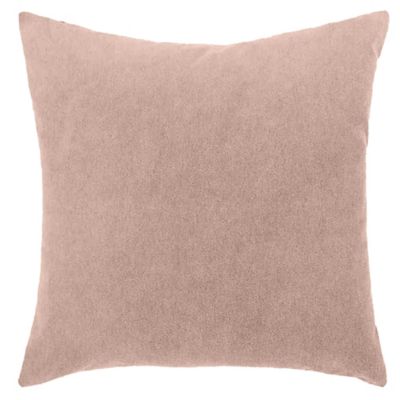 Studio 3B™ Velvet 24-Inch Square Throw Pillow
Unavailable
This item is no longer for sale online
customer reviews
Showing 1 - 6 out of 6 reviews
TEAL???
Divine Ms M . 12 months ago
This "teal" pillow is nowhere near teal…at best, it is light blue in color. Texture and filling feel cheap also. Returned.
Beautiful plush pillow!
Allison Alexander . 1 year ago
This pillow is gorgeous! The color is exactly as photographed- a lovely blush pink color, with a beige/neutral back. The quality is excellent and it is the perfect combination of soft and plush. It is the perfect accent to our bedding!
You won't be disappointed!
Kimberly S . 1 year ago
I absolutely love this throw pillow! It's extremely well made. I'm not sure what the filling consists of but it's a bit on the heavier side for a throw pillow and you can shape it some. I'm also in love with the colors and textures of it. The velvet side is a light gray color and the other side is a light beige colored tweed like fabric. I am using this on my bed as an accent pillow. I would love to use it on my couch so everybody can see it but at 24x24, it looks quite big on my low profile living room furniture set :)

Elegant pillow with flexible decor options
Beth . 1 year ago
I love this pillow. The velvet side is soft and very pretty; makes an elegant addition to a chair or sofa. The neutrality of the grey blue coloring would be compatible with many color schemes. The other side has somewhat of a weave pattern, and although very different from the velvet side, could definitely be attractive in more rustic decor.

Velvet and linen pillow
kod . 1 year ago
This pillow is nice and large. It's much more substantial than I was expecting. It's a light grey velvet on the front and a natural linen on the back, although either side could be used as the "front." The zipper closure reveals a down-filled insert. Seams are nicely sewn. I'm very impressed with the quality of this pillow.

Studio B Velvet Pillow
Anna K . 1 year ago
This studio B velvet is beautiful. The color is exactly the way it's shown in the picture. The pillow is large and plush. One side is velvety and the other is a soft material. It's very easy to clean and it looks great.
Showing 1 - 6 out of 6 reviews