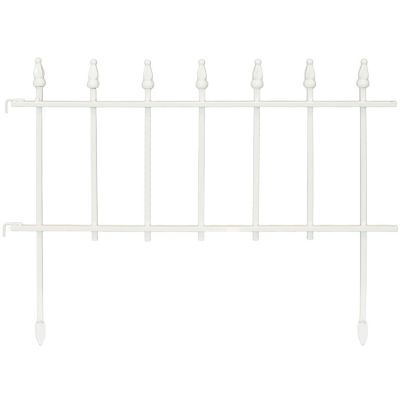 Sunnydaze Border Patio Walkway Fence Panels - Roman Style - White - Set of 5
Unavailable
This item is no longer for sale online
customer reviews
Showing 1 - 3 out of 3 reviews
Border Fencing
Debra W. . 8 months ago
[This review was collected as part of a promotion.] I am working on redoing my backyard. This weekend we pull out mulch, the dogs were eating it and I replaced it with rock. I started putting up the roman garden boarder and it looks outstanding. It is the right height the dogs are so small to just over it and it made that side of the yard look so cute. I recommend the boarder, the only thing that is hard it matching up the holes to put the boarder together.

Originally posted on Sunnydaze Decor
White works as good as the black
Cheri D. . 2 years ago
I have been using the black Roman border fencing for just about all of our gardens and purchased a set of white to add to a set of white vinyl set. The looked great as an add on ....and recommend either the white or black that really make the cordoned off section stand out. We have 29 or so garden beds that are really beautiful with those finishing touches.

Originally posted on Sunnydaze Decor
roman border fence
Betty K. . 2 years ago
I lover my fence. I actually used it as an added design to my retaining wall.. it added a extra feeling of elegance.


Originally posted on Sunnydaze Decor
Showing 1 - 3 out of 3 reviews