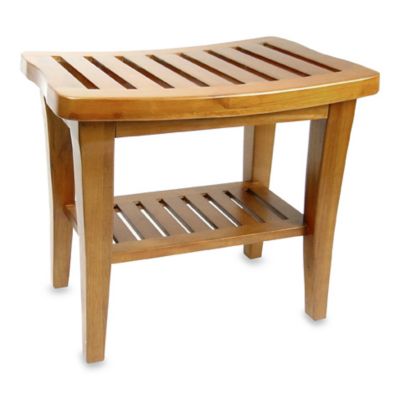 Unavailable
This item is no longer for sale online
Most Helpful Positive Review
second review
Jackie62
.
9 years ago
As I mentioned in my first review (see FoodieGrrl), I replaced the plastic knobs on the legs of this shower bench with rubber grips, which made it much more stable in my bathtub. I have now used it for five months, and I love it. It is sturdy and just the right size for my bathtub and the right height for me (I am 5'8"). I had knee replacement surgery and got used to using a shower bench. When I got rid of the large, medical-looking bench that extended into the bathroom, I got the Pollinex bench, which rusted out. This one seems a much better (and more expensive) product. I like the look, and it makes shaving my legs possible.
Most Helpful Critical Review
Cracking after one month of use!
cj50
.
9 years ago
When I purchased this item I was totally satisfied with the product, even the price. However, after one month the bench is splitting along top of seat on the long side which doesn't appear to even be in a joint. I intend to return item for replacement.
customer reviews
Showing 1 - 20 out of 169 reviews
Beautiful But Stinky
Deborah . 2 years ago
I'm so disappointed with the purchase; it looks great but it is quick to mildew and smelly. I am constantly washing in bleach. Would not recommend if will be used daily.
Beautiful and sturdy.
GrandmaRhonda . 5 years ago
This is so much prettier than your standard medical-use shower chair that I am now using it in the sun room since I no longer need it in the shower. My only caution is that it DOES get water spots so it needs to be wiped down after use in the shower, but I also used it when dressing and found it very comfortable.
great product
wordsmith . 6 years ago
Well made bench. Water beads off the teak. Rubber feet keep it from moving. Attractive.
slip
bench . 6 years ago
pads on bench slip in shower. Had to order non slip from amazon and change feet!
Beautiful as described!
Trout . 6 years ago
This bench is the perfect size for the shower and my sister loves it! Would recommend to anyone looking for a shower bench.
Impressive addition to new shower
Vallyn . 6 years ago
This came as pictured. No assembly needed!! It is a very sturdy shower bench and looks gorgeous. It's a beautiful addition to our bathroom and has caught the attention of many guests. This is functional as either storage for extra towels or in-shower bench for someone who needs to sit while showering. Would not recommend for someone with balance issues or who needs assistance to shower, though. I've recommended it to many of our friends. Even my husband (who doesn't notice decor) has said, more than once, it looks impressive.

Originally posted on bedbathbeyondca.com
Teakwood Bench
Char . 6 years ago
Very Happy with this bench. I have an open shower so it is very visible when you walk into my bathroom. Looks great. Also very happy that it came assembled.
Teak bench
Donna61 . 6 years ago
I really like this bench. It was good and solid. Unfortunately it was a little too big for the space I had so I returned it and bought a corner bench.
Teak is Beautiful
Katt19 . 6 years ago
This beautiful teak seat is beautiful and well built. Perfect for our walk in shower. Comfortable seat, never cold. And it's lightweight but sturdy. Makes shaving my legs easy. Love it!
Very happy with my new bench
springsgirl . 6 years ago
The quality is excellent. The feet are white, so there is no danger of black marks in the shower. It is sturdy and would be good for a heavier person the myself (110 pounds). I am very happy with the purchase!
Great quality for the price
Piggyluv . 6 years ago
I had been looking for something to put in our shower, I was in your store with my sister and saw these beautiful teakwood benches. I purchased 2, they arrived at my home in a timely manner,I was excited to see them in the shower and they looked great .l have had them about a month now and they still look great. The quality of this product is 5*s
Just what I needed
Rose . 6 years ago
My order came fast and the stool was in perfect condition.. My shower does not have a bench so I ordeedr this teak stool to sit on and shave, it works perfectly. The wood is beautiful and the bench is very sturdy. I'll give it 5 stars because I couldn't find anything about it I do not like.
beautiful bench
field . 6 years ago
this fits perfectly in our bathroom between the shower and closet. The wood is quality and the style is modern
Handy Little Bench
Athena1 . 6 years ago
This bench has proven to be handy and useful in our small shower and locker room area.
Exactly what I wanted.
Patti . 6 years ago
This bench is sturdy and well made. It has an attractive finish and was a much more cost effective solution to a built in seat in the shower stall in my recent remodel. So pleased with this product.
Great product and outstanding value
David . 6 years ago
Excellent quality bench: well made, attractive design, sturdy, outstanding price, used a 20% off coupon, and got free shipping to boot. The customer service person was most helpful as well. BB&B is my new "go to" place to shop for quality products and good value.
Quality workmanship
wordsmith . 6 years ago
Wood smooth - teak repels water - water beads up and drains off. Stable - doesn't wobble. So glad purchased this.
I bought 2. They are very comfortable.
katie . 6 years ago
One was for bathroom vanity and other was for porch.
Teak Wood Shower Bench
Kriss52 . 6 years ago
I is so wonderful. The quality is amazing. Very sturdy and elegant. I lost everything in the flood in August of 2016. I never thought I would have something so nice. I have told my friends and the ones that have seen it said they had to have one. Bed Bath & Beyond has quality things that are worth what you pay for them. They also last for a very long time. Thanks Bed Bath & Beyond for such a wonderful bench for my bath. Kriss52
Arrived damaged
Joee . 6 years ago
Received 'floor model' with No tags or care instructions AND packaged in box way to large with minimal packing. Nicks and dings all over.. RETURNED If you can get a packaged product might be better. I am unable to go out so rely on shipping and delivery.
Showing 1 - 20 out of 169 reviews