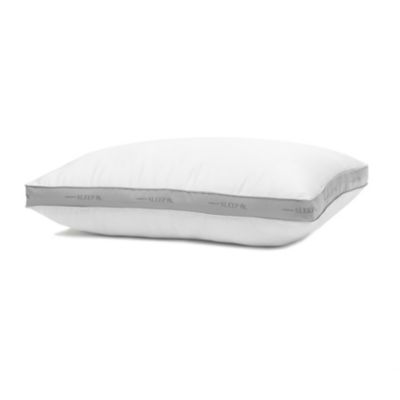 Therapedic® SleepRX™ Down Alternative Standard/Queen Pillow
$51.99
Get 20% off & earn 5% back in points with Rewards™+
Enroll Now
customer reviews
Showing 1 - 20 out of 46 reviews
Extremely Lumpy
William . 1 month ago
Pillow became unusable after only a couple weeks. The filling is awful. Would not recommend
Bad Quality
CarrieT . 2 months ago
Regret buying this pillow. After just a few days it's all lumpy. Terrible quality.
Lumpy after 2-3 months
Scott . 2 months ago
Bought two of these and they may be the worst pillows I've ever bought. They deflated and got lumpy in like two months. The two stars is because they are comfortable, but now just flat and lumpy so look cheap and old on my bed in such a short time. Now need new pillows after holding out maybe 6 months total.
Don't buy!
Nora J . 2 months ago
Most expensive pillow I've ever purchased and I wish I hadn't wasted my money. At first it was very comfortable but began getting lumpy after only a couple weeks. Now after a few months, it's completely worthless. The filling has become all separated, flat, and lumpy.
BUYWR BEWARE
BB&B Customer . 7 months ago
Very lumpy, nothing firm about this pillow at all. For the price of this product you'd think you would get something "half way" decent but I was very disappointed.
Not a good pillow
Luis . 8 months ago
Thispillow was fine at first and seems perfect or side sleepers. It has a nice firmness but also softness that holds your head up in the right position. After about 2 months the pillow is lumpy and feels horrible. A pillow of this price should never give this experience. Save your money and get yourself a cheaper pillow.
Nothing "firm" about this pillow
BB&B Customer . 8 months ago
I bought this pillow because the shelf notes said it was "firm" and "cooling." It is neither. Woke up with an awfu kink in my neck. Don't be misled by the 5 star reviews. If you look closely, you will see that every single one of them was "collected as part of a promotion,"
horrible pillow
MrsJ . 9 months ago
I just tossed out two of these pillows that I bought only 3 months ago. I've had better pillows from Walmart. They flattened so badly so quickly. Totally not worth it.
Useless!
BB&B Customer . 11 months ago
This pillow was incredibly overpriced at Bed Bath and Beyond. I feel robbed. I am returning them because they became flat within days of getting them and don't have the cooling properties mentioned on their marketing material. I am very disappointed with this product.
Worst Pillow Purchase of my Life
BB&B Customer . 11 months ago
I've always simply purchased cheap/affordable pillows from WalMart. Decided to splurge on taking care of my aging neck and body while sleeping and have never felt more let down. The down broke into clumps within 2 weeks. Can't believe I'm admitting I was better off with $20 WalMart pillows. DO NOT BUY.
Worst pillow ever
Stephanie . 12 months ago
This pillow has zero weight to it and seems to be filled with stuffed animal stuffing. It lumps and clumps together within weeks. A $5 Walmart pillow would be better than this thing. Save your $ and get the Wamsutta down alternative pillow. It's a steal at just $20 more than this thing.
Would not recommend
Lynn . 12 months ago
After only a few uses, the pillow became extremely lumpy and not comfortable whatsoever. I have tried everything to smooth the pillow out, but nothing works. Would not recommend this pillow at all.
Went lumpy
BB&B Customer . 1 year ago
We bought these pillows and had great expectations for them. Unfortunately, they went completely lumpy after only 1.5 months of usage. We are normal side sleepers. I would not recommend this product, especially for the price!

Originally posted on bedbathandbeyond.ca
Not impresses
Irene . 1 year ago
The pillow was too hard / stiff. It was not enough support for my head and neck. I had to purchase a new pillow and throw this one away unfortunately,
good pillow
khennessey . 1 year ago
[This review was collected as part of a promotion.] I bought this pillow in hopes of getting better sleep. I will say that the pillow is soft and comfortable but not thick enough for me. If this was a bit thicker I would say it would have been the perfect pillow. I did not notice it making any change in my sleep.
Originally posted on Bazaarvoice Sampling Community customer
disappointed
Karter . 1 year ago
i've had this pillow for only a couple of months and already it's extremely lumpy and goes flat a few minutes after laying on it. for the price i expected much better quality and i'm extremely upset i wasted my money on this.
Not good
BB&B Customer . 1 year ago
The pillow is too hard for me.
Jury still out
Jnic . 1 year ago
I don't Think the pillow should cost as much as it did. The pillow does have a cooling property. It does have firmness and the alternative down is comfortable to sleep on. However, I have noticed after the last couple of nights that the pillow stuff on the inside has started to separate in the middle and I have to plump the pillow in order for it to take shape again. Not what I want in a pillow that expensive. I don't like the foam ones either so just accepted I'll have to buy a less expensive pillow every year instead.
Expensive, and not good
Bridget . 1 year ago
This is a very expensive pillow and it's not any better than any low cost pillow you'd buy from Target, etc. It's hard, lumpy, and downright uncomfortable.
Luxury Pillow!
Dee48 . 1 year ago
[This review was collected as part of a promotion.] I received the Sleep RX Gusset Pillow to test and review. I love this Down Alternative pillow. This is a very comfortable pillow to sleep on. This one will keep your head cool during the night. This has plant-based, eco-friendly ingredients.
Originally posted on Bazaarvoice Sampling Community customer
Showing 1 - 20 out of 46 reviews