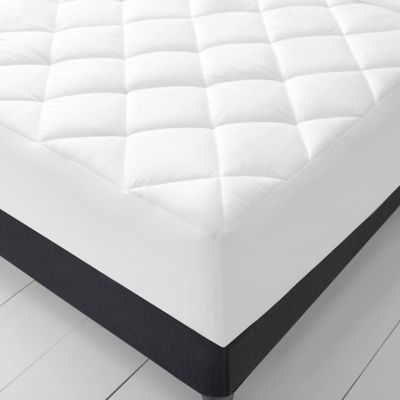 Therapedic® Wholistic™ 400-Thread-Count Antimicrobial Twin XL Mattress Pad
$79.99
Get 20% off & earn 5% back in points with Rewards™+
Enroll Now
customer reviews
Showing 1 - 20 out of 35 reviews
Soft mattress pad
BB&B Customer . 1 month ago
I bought this mattress pad and it's so soft. When I sleep at night it's so comfortable. I would recommend this mattress cover
good product
BB&B Customer . 1 month ago
was exactly what I wanted. Just enough cushion to it, good quality, wash and dry well, fits perfectly.
Shirley . 1 month ago
Love it
Don not wash it
Gerry . 3 months ago
Mattress topper good until I washed it, Very thin mattress side material ripped open spilling all the polyester fill in the washing machine. Washed in gentle cycle since material appeared thin. Would not recommend this product

Originally posted on bedbathandbeyond.ca
Fabulous product.
Elizabeth . 7 months ago
From now on, wherever possible, this will be my go-to brand at Bed, Bath and Beyond. I am very happy with this mattress pad. I brought it home, and as usual, I laundered it before I put it on the bed. It washed up beautifully and dried quickly in the dryer. I love that the side panel is not made of nylon mesh that rips everytime you look at it. They have put very strong solid material on the sides with a very thick and strong eleastic on the bottom to keep the mattress pad on the bed. The pad itself is lovely and plush and a dream to sleep on. Thank you very much for this brand of goods you have in your store. I am very happy.
Nice
Linda . 8 months ago
Doesn't slip around & doesn't make you sweat at night
BB&B Customer . 8 months ago
Thickness of pad greatly improved comfort of old lumpy mattress. Skirt easy to put on and hugs mattress nicely.
Sandy . 8 months ago
Really like it!! Except that the inside seam wasn't stitched completely around. So I resewed it myself. Fits very well. Washed up nicely.
Therapeutic Wholistic Antimicrobial Mattress Pad
Gertrude L . 8 months ago
It adds a comfortable & breathable layer to the mattress. I especially like that it is antimicrobial.
BB&B Customer . 8 months ago
Very plush, cooling and comfortable
Decent Mattress Cover
BB&B Customer . 9 months ago
This mattress cover adds cushioning that makes a difference. I liked it enough to buy another for my guest bed.
Very impressed!
Carol . 9 months ago
Mattress pad has a cotton face with THICK polyester batting, which makes the mattress feel softer and more plush. A substantial 1-inch elastic band all around, which fits under the mattress, so no way is the pad going to come loose. The fabric around the sides is actual FABRIC, not that thin stuff that you can poke your finger through. The batting is thick, so this mattress pad takes more time in the dryer than any other I have had. Comes out of the dryer lofty and soft.
Sleeping on a cloud
Mary . 9 months ago
This mattress pad makes my bed pillowy soft. I have a very firm mattress and this mattress pad, being so soft and cloud-like, helps me sleep even better, This mattress pad not only stays in place, fit fits my extra-depth mattress perfectly. I do not have a front loading washing machine (washing instructions state to use that type), but I have not had any problem washing this mattress pad in a top loading machine. I highly recommend this mattress pad!
Restful
Friendship . 9 months ago
Very pleased with comfortable feel
Perfect.
Tammy . 10 months ago
Perfect fit. Just the right amount of softness that our mattress needed without making it to soft. Will buy it again fir our next mattress.
Really Nice Mattress Pad
WestCoast Mom . 10 months ago
This is probably the nicest mattress pad I've ever owned. Fits great on the bed. Super high quality. Highly recommend.
Best Mattress Pad Ever
JamiSue . 11 months ago
I needed just a little cushion as I am a side sleeper and our mattress was to firm. This one was perfection. It doesn't move and bunch up in all the wrong places and gives just the right amount of softnesses so my shoulder no longer hurts in the morning. I love it and will be buying other sizes for the other beds in our home.
nice product
TXAGGRAD . 11 months ago
I've bought Wamsutta brand from BBB many times but it was not available when I was shopping for this mattress pad (a queen size). This was a gift for my 90+-year-old mother, and she said it sleeps very comfortably (she is PICKY!). Nice quality even though I thought it was a little pricey.
Does its job with a bonus
BB&B Customer . 1 year ago
The padding adds a surprise softness to the mattress. Love it.
Fun . 1 year ago
Made the bed much more comfortable!
Showing 1 - 20 out of 35 reviews