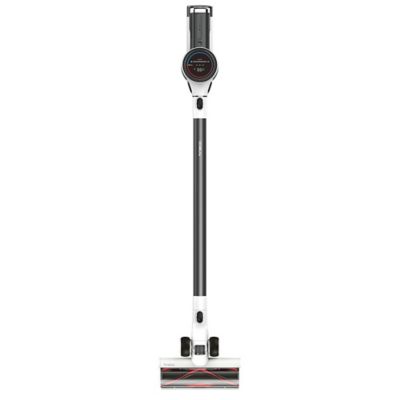 Tineco Pure One S12 EX Smart Cordless Stick Vacuum in Matte Black
$455.99
Get 20% off your entire purchase with Welcome Rewards™+
Enroll Now
customer reviews
Showing 1 - 13 out of 13 reviews
Love this vacuum
Tiffanyann14 . 4 months ago
[This review was collected as part of a promotion.] I have been using this for a few months now and I really like it. I had been looking for a vacuum like this for a long time. I was using a different brand before but it wasn't cutting it and the battery died quickly. The Tineco has a great battery life, I'm able to vacuum upstairs and downstairs with one charge and still have battery left. Also it came with an extra battery so it's always ready to use. This was easy to use, fairly light and easy to move. I like that it has multiple attachments and a holder you mount on the wall to hold everything. This vacuum looks so sleek too! This vacuum has been working great for me, the only complaint I have is with the stick vacuum attachment, it doesn't pick up large pieces as easily. My kids are always dropping snacks and things on the floor, so I was trying to sweep up goldfish crackers with the stick vacuum attachment and it was mostly just crushing them up before sucking them up, other than that it picks up things well and when you use the crevice tool attachment it grabs everything even goldfish crackers. Overall I'm really happy with this vacuum.

Originally posted on us.tineco.com
Not As Described
Martin . 4 months ago
the description described on the website is that you get a Extension Wand 30 dollar value, pet power brush 79 dollar value and a bare Floor Brush 99 dollar value which is included in the Pro EX Model but apparently not the EX model even though Bed Bath & Beyond describes as being in the box on their website... the Website is wrong , i am sure this was a mistake, but i purposely bought the vacuum for the floor Brush...Hopefully they fix website soon and reimburse me for the loss
Love It!
Erinn . 5 months ago
[This review was collected as part of a promotion.] I truly love the Pure One S12 from Tineco. This cordless stick vac comes with 2 batteries and extra attachments. I like how easy it is to switch from one attachment to another. Just push the button and you can easily detach and attach them. The docking station is very easy to install onto the wall. It holds and charges the second battery and all of the attachments except for the filter cleaner. This model comes with an extra pre filter as well and an enclosed device to clean them. The vacuum itself is a little top heavy. It is slightly heavier than other stick vacs, but it is worth it to have the extra suction power and digital display. I like watching the display while cleaning. The status turns red when the vacuum is sucking up dust and debris and goes back to blue when that area is cleaned. It will also turn red if your filter is dirty. It shows you how much battery life is remaining in easy to read numbers. With the attachments you can clean your whole house from top to bottom with ease, including furniture, baseboards, and ceiling cobwebs. You will most likely go through both batteries if you have a large house or lots of upholstered furniture. But that is why they give you two batteries. Even with how quickly the batteries run out, I still give this vacuum 5 stars because of how well it cleans, how easy it maneuvers, the attachment package, wi-fi capability, and overall performance. I love it!!!

Originally posted on us.tineco.com
My favorite vacuum
MelissaR . 5 months ago
[This review was collected as part of a promotion.] When my vacuum showed up in the mail I was so impressed with it. It has several different attachments. I can use the short attachment to make the vacuum a small hand held that I can use to clean the crumbs from the kitchen counter or I can use the floor attachment to vacuum the carpets or sweep the kitchen floor!!

Originally posted on us.tineco.com
Excellent product
EnikoMS . 5 months ago
[This review was collected as part of a promotion.] Tineco Pure One S12 cordless smart stick vacuum is an excellent product. Powerful yet lightweight, very solid, with all pieces and extensions snapping securely in place. The soft rollers on the floor attachment get every dust and dirt up. We highly recommend this cordless stick vac.

Originally posted on us.tineco.com
Power suction
Yoli E . 5 months ago
[This review was collected as part of a promotion.] The Tineco S12 came with about 11 pieces and and an extra battery you do have to assemble it before use. Assembly was a snap, only three pieces and you're good to go. They can be easily removed as well using the quick release. I did need to charge mine so I had to find a spot to install a wall-mounted dock which was an inconvenience but it's the only way to charge it. It took about 30-45mins to fully charge. I did like the auto feature that adjusted depending on the level of dirt that pass through the sensor you can also manually control the suction. There is a slider switch that will automatically control the power. It has an app that will display the information available on the LED screen as well as some additional info. To activate the wifi the first time you will need to remove dust bin to reach the sensor button. The vac is light and easy to maneuver which is a plus. The dust bin is on the small side and will fill quickly and easier to empty when you remove it from the hose. You might need to to get close to trash can to empty it. I would have loved it more if the bin just slid out to empty. It comes with an array of attachments and three can be stored on the dock. Overall I really like the how easy it is to maneuver and the auto feature but not having a cord to charge in addition to the wall mount dock and being able to slide out the dust bin kept me from really loving this vac.


Originally posted on us.tineco.com
Compact and Modern - Lightweight
Mav90 . 5 months ago
[This review was collected as part of a promotion.] The Tineco Pure One S12 Ex is a cordless powerhouse that does it all. The vacuum comes with an easy-to-mount cradle that facilitates charging (vacuum and spare battery) the attachments. After just 30 mins out of the box, we had the vacuum assembled, charging and the cradle installed. The only complaint that we have about this vacuum is that it takes several hours to charge fully. Another 15 minutes and we had the vacuum connected to our WiFi and reporting vacuum statistics and information to the smartphone app. The Pure One S12 Ex has a sleek, modern design with front running LED Lights and and illuminated HUD display for suction and battery power data on the vacuum itself. Operation of the vacuum is done via a trigger and there is a trigger lock to keep the vacuum powered constantly that is handy. The low profile of the vacuum makes it easy to get under and around right spaces for a deeper cleaning. There are attachments for upholstry and curtains to further extend the capabilities of this impressive unit. Although not listed as a pet model this vacuum worked well on pet hair (cats and dog). Overall, we are very impressed with the performance and compactness of this vacuum and look forward to many cleanings ahead!


Originally posted on us.tineco.com
Not Just Aesthetically Beautiful
CourtD . 5 months ago
[This review was collected as part of a promotion.] The absolute best vacuum we've ever had, hands down. Not only is it beautiful aesthetically, your floors will be beautiful after using it. It is so high tech I was afraid it would be hard to learn but it was super easy. The app was easy to get through, the instructions were easy to understand. I love that you can see the color change as it's cleaning, that it has so many attachments and the additional batteries. The cleaning power has outdone both our shark, Dyson and roomba. If you're in the market for a hi-tech vacuum that's easy to use/understand and does a superior job cleaning this is your vacuum.

Originally posted on us.tineco.com
Excellent Vacuum!!
Bed Bath and Beyond Customer . 5 months ago
[This review was collected as part of a promotion.] The Pure One S12 is a very lightweight vacuum, comes with an extra battery. The charging station can be mounted on the wall. Very neat vacuum, easy to charge and easy to use the vacuum. The power of the vacuum cleaner is amazing, it cleans great!! It's easy to attach the accessory you need or want to use. I have stairs, so it vacuums the carpet great!! You can change the speeds on how it vacuums quickly or slowly. Definitely a must have vacuum, I highly recommend it. One of my favorite vacuum cleaners I've owned!!


Originally posted on us.tineco.com
Tineco Pure one s12 is a must have!
Mich133 . 5 months ago
[This review was collected as part of a promotion.] I have mostly wood floors in my house with a rug here or there, so I never really thought I needed an expensive luxury vacuum cleaner before. I came across this vacuum and decided to give it a chance. It has totally transformed my clean up routine. I used to think that the best way to clean up spilled Rice Krispies on the floor (thanks toddler!) was to sweep it up, but after using this to clean it up I can't believe how wrong I was. This vacuum seamlessly picks it all up in the fraction of the time it takes to sweep it up with a broom, and I don't need to clean the roller after! Sticky things for some reason don't stick to the roller, like they would stick to a broom. The best part of this vacuum is that there is no cord. It is a life changer not having to worry about the cord getting stuck on furniture and other obstacles in a room. You can vacuum wherever you want without having to think how far the cord can stretch and where the best outlet is to plug it in. It makes vacuuming so much easier and more enjoyable. The iloop smart dust sensor really works and changes the suction based in the area of the floor you are vacuuming. You can hear a visible difference in the vacuum when you go over a rug from the hard wood floors, or vacuum the corner of your floor where dust accumulates. It saves energy when you are going over non dirty floor, so theoretically the battery should last a while. Also, the suction in the vacuum is really great. It actually picks up the dirt under it and around it, instead of spitting it forward like my old vacuum did. I also loved how there is a digital display so you can see why the vacuum may be making weird noises (something stuck on brush) how much longer you have to vacuum before the battery runs out. The attachments that this vacuum comes with means that this is the only thing you need to clean any area of your house and car. From an attachment to clean out your child's car seat, or under your car chairs, to one to clean the dust off your blinds, or your dusty windowsill there is something to make the vacuum versatile for every aspect of your life. There are a few things about this vacuum that shows that it's only human (jk!) firstly, the battery doesn't last so long at all. With a full charge I can maybe vacuum my kitchen and part of my dining room, which is 20-30 min of vacuuming max. It could be that my kitchen gets really dirty and uses a lot of Power to clean it, but I wish I could vacuum a lot more of my house with 1 charge. I end up needing to use my spare battery to finish vacuuming the downstairs, and then need to charge them for several hours to be able to vacuum the upstairs. I wish that the battery lasted longer then it does. The second con is that the vacuum can't stand upright by itself. It has a base that has to be screwed into the wall (which I hate screwing things into my walls that aren't permanent!) and it charges and stands upright in that base. You need to position it really well on a countertop or somewhere if you don't want it to fall down. All in all this is a workhorse. It is a powerful vacuum with lots of amazing features that makes vacuuming both easy and fun. It has great accessories to allow you to clean every surface of your house effortlessly. I just wish that the base didn't need to be screwed to the wall, and that the battery lasted longer. I definitely still recommend this product to my friend. This vacuum would make a perfect holiday gift for a parent or a sibling with little kids or pets who hates sweeping constant messes.


Originally posted on us.tineco.com
Vacuum Cleaner Pure One S12
Bed Bath and Beyond Customer . 5 months ago
[This review was collected as part of a promotion.] I want to say how much I love the deep cleaning this new vacuum cleaner does. From the carpet to deep vacuuming the sofa and chairs it's amazing how much cleaner everything is now. And it being cordless and light weight is such a plus . My mother actually thought I had shampoo the carpet not just vacuum it. Lololo Loving my new Pure One S12 Cleaner ❤️

Originally posted on us.tineco.com
2022 Absolute Best Cordless Vacuum!
David . 6 months ago
Test drove them all and this was the winner! One month in and this vacuum has far exceeded our lofty expectations.
Best Cordless Vacuum
BB&B Customer . 6 months ago
Lots of research and actual samplings combined with a few BBB discounts made this purchase an easy choice. I've become even more impressed since it arrived and put into action. Light,and easily maneuverable with power and suction that rivals my Miele and Seba corded machines. I promise that you will be as impressed as I've been; especially if you purchase with the BBB discounts.
Showing 1 - 13 out of 13 reviews