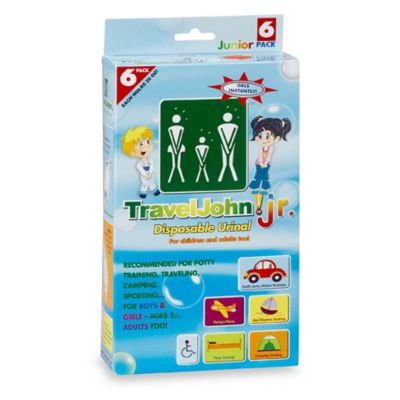 TravelJohn JR™ 6-Pack Disposable Urinal
$7.99
Get 20% off your entire purchase with Welcome Rewards™+
Enroll Now
customer reviews
Showing 1 - 20 out of 22 reviews
Wonderful
AS . 2 years ago
Great option for little boys on the run .

Originally posted on buybuyBABY.com
Kid Size!--Look at the picture
Dee . 3 years ago
I am giving 1 star because if you don't look closely at the picture, you won't notice that this is a kid-size version of TravelJohn.
When you gotta go!
Releived . 3 years ago
Very convenient on road trips where there are no stops.
Wrong Item
BB&B Customer . 3 years ago
I ordered TravelJohns for adult men,women and children. I was sent Traveljohns for kids.
MrBugs . 3 years ago
These work great and are easy to use and dispose of. The opening shape appears to work for both males and females.
EXCELLENT!
Cary . 4 years ago
My family and I absolutely love the Travel John! We are a family that's on the go and bathrooms aren't always nearby or are too disgusting to use so we use our travel john!! This especially is wonderful to use with our Toddler who is potty training and can't wait to get to a potty!! There is nothing else that I have found out there that works as well! This has been our family game changer when it comes to being on the go!!

Originally posted on buybuyBABY.com
Great priduct
MrBugs . 4 years ago
These work great and are easy to use and dispose of. The opening shape appears to work for both males and females.
Easy to use!
ile787 . 4 years ago
This thing is awesome! I gave to a friend in urgent need and she love it too! I use it for my child for when we are in the car without any restrooms closed by! Easy to use and brings pace of mind with a toddler on our travels!
These Junior size are only for very little kids
sbin89 . 4 years ago
Travel John makes this in a regular and a Junior size. Only the Junior size are sold here. This is the problem as they hold much less fluid than the regular size. The Junior size are best for kids 5 and under, not for anyone over 5. If your 4 year old "goes a lot" when they "go", I'd recommend the regular size for them, too and not buying these Junior ones. I gave this a rating of 3 out of 5 as those buying this for their 6, 7 or 8 year old may have a big mess on their hands with this Junior sized Travel John. My 7 year old used a Junior sized Travel John. It did not hold enough and could not lock away all of the liquid as the product is supposed to. It was a big mess in the back of the van on the side of the road. We switched to only buying the regular sized Travel Johns and all is right in the world again. All that said, I give the Travel John product itself a 5 out of 5. It's excellent, very easy to use and mess free (if you use the right size bag) for both boys and girls. The Travel John's also are sized for women and men to use them, too (with out too much detail). I've had my son and daughters all try them out from elementary school to high school ages. We do a lot of driving and use them frequently. My youngest is disabled and even he can use them with ease. The plastic part at the top fully covers all body parts, unlike some products that are really just for boys and men. The Travel John locks the wetness inside the bag, the same way a disposable diaper locks the wetness away so no worries about mess until you get to a trash can to dispose of the used Travel John. I keep these stored in my van, purse, diaper bag, everywhere. I also carry gallon sized zip lock bags as a full/used Travel John fits perfectly inside one if you don't have an easy place to store it until you reach a trash can. I hang towels over the car/van's windows to give some privacy. They are also great for camping and for restrooms that are too gross to make contact with the toilet.

Originally posted on buybuyBABY.com
Absolutely Love!
MrsV . 5 years ago
I brought these for myself and my grandson. I hate using public bathrooms and seeing that we are constantly on the go these came in handy. They are easy to use no spills, no smell, and easy to dispose. Great product and I hope they continue to sell them, I have a 4 month granddaughter who will be using them soon. I recommend all moms purchase these and keep your babies out of these nasty germ filled bathrooms.

Originally posted on buybuyBABY.com
Unfortunate
Macsurfn . 5 years ago
I was disappointed when these arrived. Too bad we're not told these are the 'Junior' (Jr.) packs.
TravelJohn Disposable Urinal
Surgerychick . 5 years ago
My husband, myself and our teen sons go out of town once a month, just a 2 1/2 hour drive. In winter months in bad weather it has taken us 5 hours because of accidents on the freeway. You are just stuck there and can't move. Boy everyone was glad when I pulled the TravelJohn out! I was hoping to never have to use the thing, but when you gotta go you gotta go! It worked great and there was no odor afterwards!
Maria . 5 years ago
Best product to have for those long road trips and just your ordinary day. Product does not leak and very convenient to use.

Originally posted on buybuyBABY.com
Great for road trips!
Gemini . 5 years ago
These work like a charm. I will continue to purchase these for the convenience of allowing my little one to relieve herself when ever needed.
A good idea
JustMe . 5 years ago
I have not used it yet but I am glad I have it in case I need it. It's a good idea to have for unexpected weather or other emergencies on the road.
There when you need it.
TJuser . 6 years ago
I have used this product over the past couple years. When you are on the road and just can't wait it is super handy. Clean and easy to dispose.
Great travel product
MrBugs . 6 years ago
Easy to use, easy to dispose of. I think for a child it would be great, but for adults it is very good.
Can't do without!
Mimito5 . 6 years ago
I have 5 young grandchildren who don't give alot of notice that they have to go to the bathroom. I keep one travel john in each car and the golf cart to eliminate any issues in finding a bathroom quickly when we're out and about. It's made a difference of night and day! I like that the urine turns into a solid in the bag, thereby eliminating any leakage problems.
Great for an emergency
Fran19 . 6 years ago
We've been caught several times in either a traffic jam or snow pile and needed some relief. These helped make the situation a little better
This product has great features
Sonya . 6 years ago
I love these. My friend told me about them and I love having them for camping and long trips for the kids. Great item. You don't have to worry about them spilling or smelling. They are just great.
Showing 1 - 20 out of 22 reviews