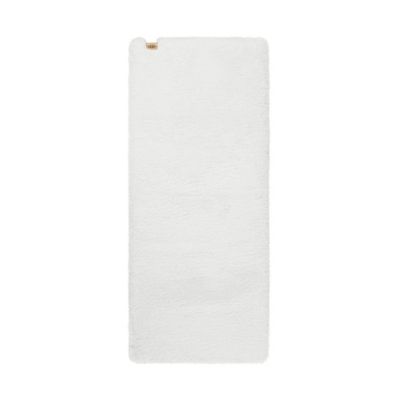 UGG® Aussie Faux Fur 2' x 5' Runner in Snow
Most Helpful Positive Review
Softer than a baby's butt
Alexx
.
1 year ago
Holy cow these rugs are crazy soft. I get out of bed each morning and feel like Im walking on lotion. Buy em, you wont regret it!
Most Helpful Critical Review
No way to clean.
BBB Customer
.
1 year ago
I loved this but, This rug has no way to clean
customer reviews
Showing 1 - 20 out of 34 reviews
Rug
BillChase . 2 years ago
Awesome price Awesome product.
Love my two ugg rugs
Betty . 2 years ago
I love the way it feels and I love the pink one
perfectly plush
DAIDAE . 2 years ago
This first thing my feet feels when I wake up and the last when going to bed. So so soft and plush. Wish I could wash but easy to spot clean followed but a little Febreze
Love it!
BB&B Customer . 2 years ago
I found this rug in the bathroom rug section but it is actually a versatile rug that you can put by the bed, or just anywhere in the room. I wouldn't use it in the bathroom next to the shower, only by the vanity because when it gets wet I feel like it would get too soggy. Other than that nice rug, beautiful colors. I love UGG.
super soft and great quality
Happywife . 2 years ago
A beautiful feeling and super pretty!!!!
lost order???
Robin . 2 years ago
ordered rug aug 20th, estimated date of delivery was 8/26, on 8/29 order details are still being processed. Can someone contact me about this order? half of order has been delivered.
Softest rug
Helen m . 2 years ago
Bought it for my room as a bedside rug in the ivory color. It's very, very soft and feels great under my feet when I get out of bed in the morning! Easy to spot clean and seems like it will last many years.
Amazing
Jen . 2 years ago
These rugs are so soft and the perfect accent to a small room
Amazing!
Crystal . 3 years ago
I wish this came bigger!! Love this so much!
Perfect!
Tammie . 3 years ago
The Softest Rug Ever! Just what my daughter was looking for
Amanda . 3 years ago
It's the best, so soft, although I would recommend that they start making it in different sizes cuz its that good
UGG RUG
PrettyMi . 3 years ago
I love my rug; it's very soft and the price was great.
Super comfy!!!
Sybil420 . 3 years ago
Love it!!! Very nice addition to other UGG products.
Great rug
Irina . 3 years ago
Just received my package and when I open the box I was very impressed of the quality. Absolutely adorable rug. Very soft ,
Showing 1 - 20 out of 34 reviews