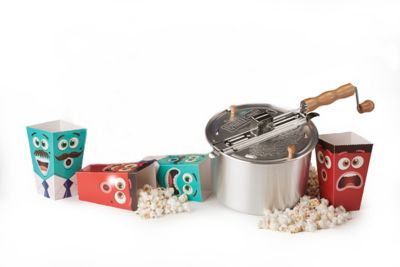 Wabash Valley Farms™ The Original Whirley Pop™ Stovetop Popcorn Popper
$21.59
Get 20% off your entire purchase with Welcome Rewards™+
Enroll Now
Most Helpful Positive Review
Best KettleKorn Maker EVER
maribear79
.
11 years ago
I have purchased at least a dozen Whirley Pops for gifts. As soon as anyone eats my homemade kettlekorn, they want to know how I made it. The recipe is so simple, the result is amazing, and this popper makes it super easy. You NEED this popper. The recipe is easy to remember. quarter, quarter, half. quarter cup of oil, quarter cup of sugar, half cup of popcorn. Turn the handle stirrer while the popcorn is popping. I dump the pot of popped corn into a brown paper bag, add salt to taste. When I've made several batches, I bag them in ziplock bags to keep the corn fresh. We use the Whirley Pop to make regular popcorn, too. It's so fast. Sprinkle with parmesan cheese for a yummy treat.
Most Helpful Critical Review
Was very disappointed
Else
.
11 years ago
Used this 3 times and the turning part broke. I had a metal one before that worked great but son thought I needed a newer looking one so I threw away the old one.. That was a Big mistake. Regret having this one with plastic turning part...
customer reviews
Showing 1 - 20 out of 341 reviews
Love this popcorn maker!!
Angela . 1 month ago
This is the best! Super fun! Simple and easy to make perfect popcorn…My granddaughter loves to make popcorn with this and she is 9❤️
Best machine yet
Narbaby . 3 months ago
I had one before but my granddaughter ruined it. I got a much better price with your website. Thanks.
Item broke
Lindysue . 3 months ago
I only used it 5 times and the rivet on top of machine broke. How do you fix that!
Cheap Looking!
Irene . 4 months ago
Upon receiving this item, I opened the box and saw that it looked cheap and flimsy. So, I didn't used it. Returned to the store.
Wabash Valley Farms™ The Original Whirley Pop™
John H . 4 months ago
Great Pop corn maker. Cleans up easily. Best I have ever used.
Yummy!
Helene . 5 months ago
This product is easy to use and produces YUMMY popcorn. Definitely the way to go. It allows you to control the amount of fat (oil/butter) and salt you want The only con is that it is very noisy.
Great popcorn popper.
Johnny . 6 months ago
Really great popper. Ordered online and my wife picked it up yesterday. As soon as she got home I washed it and popped 2 tablespoons of corn after washing and seasoning it. It popped great and not a single kernel was left. Popcorn popped up full and was delicious. We will be getting some popcorn oil next and see how it does. I highly recommend this popper.
10/10!!
MrsA . 6 months ago
I love, love, LOVE these popcorn poppers!! Perfect for large quantities-especially when at camp!
Bad quality
adrifarina . 6 months ago
Bad quality. The bottom is thin, it burned all the popcorn and the pan, even at low temperature.

Bring back the old school way!
WendyBuysBuysBuys . 9 months ago
Best popcorn I've tasted in a long time thanks to this popper. We wanted to find an alternative way to pop popcorn other than those machines (that burn the popcorn everytime!) This was fantastic, never burnt (since it's manually controlled) and back to basics on the stovetop. Con: the aluminum sticks to my glass top stove at times. Keep it at a lower temperature than suggested.
Silver popcorn!!!!
BB&B Customer . 11 months ago
My kids love popcorn as a snack, so as a healthier alternative to microwaveable popcorn, I decided to buy this product. However, after using about 5 times, I made popcorn yesterday and most of it came out silver from the aluminum pan! Very disappointed. I would not eat this, and definitely wouldn't allow my kids to eat it. Wasted money! I do NOT recommend this product!!!!
Great
BB&B Customer . 1 year ago
Great
Unbelievable popcorn popper
Carol . 1 year ago
All the reviews indicated this popcorn popper was fantastic. I was skeptical but bought it since my microwave one got broken.. Well, I am so pleased that the reviews were true. I followed the directions and behold all the popcorn popped in less than 3 minutes. So much better than microwave popcorn.
WONDERFUL
BB&B Customer . 1 year ago
Almost every piece popped!!! No burnt smell like microwave popcorn! A+
Great little popcorn maker.
BB&B Customer . 1 year ago
We'll never go back to the microwave variety. Making your own popcorn at home from kernels results in fresher and better tasting popcorn. You have control over the type of oil used and flavorings added, as well the the type of kernels. This Whirley Pop Popcorn Popper makes it easy for anyone to make fresh popcorn at home and without getting burned or making a huge mess. The wood handle is a great feature as well as the lid that hinges open. It's easy to clean too. Our only complaint is that the metal arms that spin around near the bottom of the pot (when you crank the handle) don't reach the kernels. So you're only stirring your popcorn once the kernels have popped. I believe there is some benefit to stirring the kernels before they pop, but it's a minor issue for us. We haven't had any burnt popcorn yet.
Great!
BB&B Customer . 1 year ago
This was highly recommended in all the comments I read so I purchased it. I am a popcorn LOVER and this is exactly as described. Makes great popcorn with no unpopped kernals. I agree with everyone else and definitely recommend this popper.
Popcorn for ever
Customer Ed . 1 year ago
This is our fourth Whirley Pop. We had one in the house, one in the cabin and one in trailer. Finally after many, many years the hinge broke on the lid. Therefore we needed an immediate replacement. It's a wonderful popcorn popper and as you can see we can't be without one.
Excellent Product
Nancy . 1 year ago
I have been cooking my popcorn in my Dutch oven for years (which has ruined it by the way) while standing there shaking the pot. Not all the kernels pop with that method and some get burned and it took quite a bit of time and a lot of shaking but I only like popcorn when it's cooked in oil the old fashioned way on the stove. With the Whirley Pop™️ the popcorn pops so quickly—it's like one big burst—that it's all popped before you know it. And every kernel is popped! It's so easy. Just follow the directions on set up and use and you can't go wrong. This thing should be called The Original Amazing Whirley Pop. I love it!
Simple and flawless
Robert . 2 years ago
Turns out perfect popcorn with a minimum of effort, every time.
Best popcorn popper
Peg on the hIll . 2 years ago
Previous owner of. air poppers, microwave bowls for popping, the electric one, but this works best. Use 2 T sesame oil 2/3 cup popcorn. On electric stove medium heat takes a few minutes to cook perfectly. None burnt.
Showing 1 - 20 out of 341 reviews