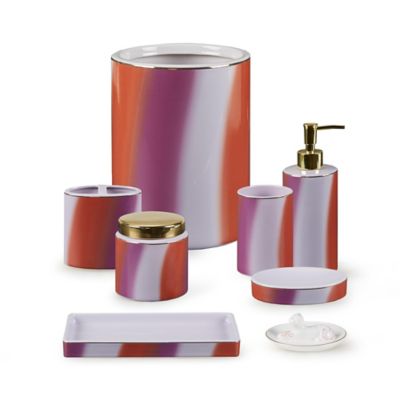 Wild Sage™ Tiger Colorwash Bath Accessory Collection
Unavailable
This item is no longer for sale online
customer reviews
Showing 1 - 20 out of 77 reviews
Lovely colors! Goes great with many color schemes
TNDonna . 1 year ago
This toothbrush holder has lovely colors that go nicely with many color schemes. Well made, seems to be durable. Nice size without taking up too much space on your countertop. Would definitely recommend this purchase.

Beautiful and functional
Cristin . 1 year ago
This little cup can be used in so many different ways! I chose to use it for pens in my office since the colors are so vibrant and pretty, but it could also be used in the bathroom to store toothbrushes, Q tips, cotton balls, etc. I would not recommend for a younger child's bathroom only because it is breakable.
Lovely colors and gold details
Celina . 1 year ago
I love the color combination and the gold details of this lotion pump. I wish the colors were more fluid looking than straight stripes. The bottle seems sturdy. The pump itself is entirely gold colored plastic. I'm not sure how well the color will hold up over time, but it works well.

Versatile
ChrisC . 1 year ago
Better than I expected. Not only can it be used in your bathroom but you can use it as an upgraded catch all tray just about anywhere in your home. Great for keys in your foyer, jewelry on your vanity, items in your bathroom, on your nightstand or your coffee table-plus it adds a pop of color!

Great Countertop Organizer
C . 1 year ago
This product has been great for decluttering my bathroom counter! The divider in the middle doesn't extend to the bottom of the holder, so this product can fit more objects than it seems. It has room for other small toiletries, beyond toothbrushes, like makeup brushes and small skincare products. This product could also easily be used on your desk for pens and pencils, it has great versatility. There are also four small white rubber feet at the bottom of the holder that prevent unwanted movement in the event that your bathroom counter is wet, for example. Beyond use, this product is great for decoration. The colors are vibrant and really add to my bathroom as a whole. This product would be great for anyone who wants to liven up their bathroom.

Super pretty
Ash Collazo . 1 year ago
I really like the colors and the weight of this product. It's not too heavy and not flimsy either. No problems with chipping and we've had the product for a few weeks in our bathroom and use it to hold our bar soap.

TIGERWASH SOAP DISH
Susan D . 1 year ago
Decent quality soap dish. Nice weight, easy to clean. Gets the job done as far as holding soap. The colors were not that attractive - might look great in someone else's bathroom, just didn't do much for mine.
Good Product
Alfi . 1 year ago
It's very functional, I love the divider in between to separate between me and my roommate. It's very pretty, the colors and design look just like the pictures. The toothbrush holder is good quality too.

Pink and Purple decor
coffee girl . 1 year ago
This tray is just the right size for a bathroom counter or bedroom side table. It has a subtle design but it limited to a pink/purple color scheme. It has small foam circles on the bottom to prevent damage to surfaces.
Beautiful product!
Amanda G . 1 year ago
This is a beautiful product! It feels very sturdy and heavy, it is a very high quality product. The colors on this are very vibrant, shiny, and pretty. I'm currently using mine to hold several pairs of heavy scissors and it has not tipped over.

Wild Sage Tiger Pattern Tray…
Mason . 1 year ago
I use this for my makeup brushes, I tried it with cotton swabs and facial pads, and for holding all of our perfumes and colognes, but I like it best for my makeup brushes. The color pattern will go great with the new paint we have for bathroom. The tiger pattern is great and really good color scheme.
Adorable Little Tiger Tray for Jewelry
Claire Kluever . 1 year ago
If you are looking for a cute, colorful trinket for your bedroom or bathroom, the Wild Sage Tiger Trinket tray is perfect. The size is perfect for a counter or shelf and the quality is high. The colors are are muted orange and lavender with a gold-leaf rim around the dish. The tray is size-able enough, including the cute tiger, to store rings, earrings, or a necklace or two. It would not work well as soap dish as the Tiger takes up the entire center of the tray. My daughter will love this to add to her quirky, fun, young vibe.
Solid product!
JohnM57 . 1 year ago
Its a wonderful toothbrush holder. It feels very sturdy so if it fell off your sink it wouldnt break. The color holds up well and has not diminished at all. Plus it looks really good, I am in love with the color.

Cute jar with fun pattern
Breezy . 1 year ago
The Wild Sage Tiger Colorwash jar is a fun little jar to store knickknacks or bathroom essentials. I used mine for hair ties but the nice big softball size is great for cotton balls, Qtips, loose jewelry or any kind of small kicknacks. The only issue I have with it is the minor imperfections in the jar that come with it being ceramic and the fact that the lid fits too loosely on top and kind of slides around, making a lot of noise when you use it. I would have liked to have seen a little rubber gasket on the lid to make it fit better and make it less noisy.

stylish tumbler
Dawn S. . 1 year ago
nicely crafted ceramic tumbler, with color blends reminiscent of a warm summer desert night and the delicate thin reflective silver trim around the top is the finishing touch. I plan on using this stylish tumbler to hold my makeup brushes which solves my countertop clutter issue perfectly!
Fantastic soap dish
Linda . 1 year ago
I love this dish. I received it to review it and provide feedback. It is so versatile. It works well with any decor. I'm currently using it for my rings and small earrings. It is so easy to clean. I would recommend this dish to anyone
Beautiful wastebasket
Anthony . 1 year ago
I like this wastebasket. Its combination of colors is very pleasant. Its shape makes it easy to use, and the height is just about right. It's better to have the full set, of course, where the items complement one another.
The Cutest Jar
Mom of Three . 1 year ago
This is the cutest jar! I used this jar as part of my kitchen Christmas decor! The colors are so bright and happy, they make me want to purchase other pieces for a bright bathroom. I think this jar could be used as part of my Valentine decor also!
Pretty in good person!
Summer . 1 year ago
This is super cute piece to your bathroom the only thing I didn't like is the lid. It's very easy to come off. I he colors doesn't remind me of a tiger print. But it's very vibrant. Would look nice on your bathroom counter. Or it would also look cute in a dorm room. It's like porcelain so you have to keep it away from little kids. It would break and shatter to pieces. Other than that I really like it super fancy and cute and it gives off a young person vibe. It would also work for a bathroom for a teenager girl too. If they are into those colors and doesn't mind the gold top. You can also get throw in other colors too. It's that neutral enough. This line is new to me and I think the younger teenagers would really love it.
Cute holder does its job!
Buttercup . 1 year ago
This toothbrush holder is exactly what I needed for my tiny bathroom. Its longer oval shape fits behind my sink in the tiny counter space there which helps to make more space on the rest of my counter. I like that it has two separate spaces since I share it with my husband and we can each have our own side without worry of the toothbrushes and other cleaning tools being on top of each other and touching (I always found it annoying when everything wants to sit on one side! lol). On top of that, the color combo and design is cute and brings a nice pop of color to our bathroom. The only problem I have with it is that since it is on the wider side, sometimes the toothbrushes want to sit lower and slide to the other side of the jar at an angle which then makes it slightly more difficult to put a toothbrush in on the other side since the handle of it is in the way. Other than that, I've been happy with this so far!

Showing 1 - 20 out of 77 reviews