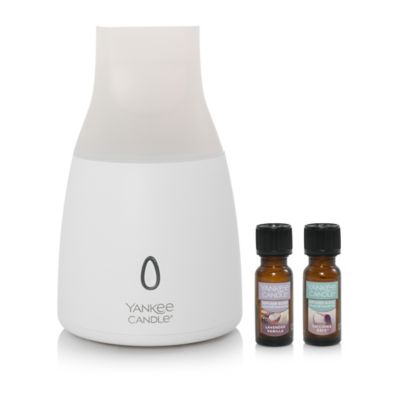 Yankee Candle® Ultrasonic Aroma Diffuser and Home Fragrance Oil Collection
$6.79 - $35.19
Get 20% off your entire purchase with coupon!
Enroll Now
customer reviews
Showing 1 - 8 out of 8 reviews
Wonderous Scented Oil :-)
ISABEL . 1 week ago
I have Yankee Candle's Pink Sand candles, wax warmers, and air spray, so why not these? A few drops in an oil diffuser can make a large-sized room smell phenomenal. I also use polysorbate 20, distilled water, and this essential oil to make my air freshener for the win. Pink Sands is a lasting, fresh scent and is so nostalgic to me as the diffuser wails the fragrance in my living room. It's just the like the candle but much more potent than the jar itself. A great buy all around :-)
Worst Diffuser - DO NOT BUY
Leigh Anne . 2 months ago
Leaked water on sides and wasn't overfull. Small and not sturdy. Printing on unit wipes right off.
The Perfect Scent For The Summer Season :-)
ISABEL . 10 months ago
The Yankee Candle's Pink Sands Oil is what I expected in a room refresher. It has a warm, summery scent that offers comfort and pleasantries and does not have a cloyingly sweet note that can be annoying and harsh. I use it in my office and have gotten numerous compliments from my coworkers. I apply a couple of drops in my diffuser, and the alluring fragrance is so appealing the throw reaches as far as the hallway. I love this product and will repurchase it when I eventually use up this bottle. Highly recommend :-)
smell of perfection!
JWatson . 10 months ago
I love this smell. It the right strong without the headache.
Lovely Fragrance
Chauntae . 11 months ago
Lovely Fragrance, you only need a few drops as (3) A little goes a long way!
Happy customer
BB&B Customer . 1 year ago
I love this oil! It has a very pleasant fragrance to use in my diffuser.
Love it!!
MimiD . 1 year ago
Great smell! Makes entire house smell wonderful!!
Carey . 2 years ago
I really like the fragrance of this product but it doesn't last long enough in a warmer.
Showing 1 - 8 out of 8 reviews