Buying Guide: Bicycles
Choosing the Right Bicycle
Buying a bicycle is more complex than just picking out something you like. There are lots of details to consider to be sure you get the most comfortable ride and best performance. You'll be cruising on two wheels in no time with help from this buying guide.
Shop All Bicycles
Help Me Choose
Common Bicycle Styles
BMX
Cruisers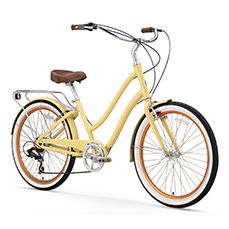 Hybrid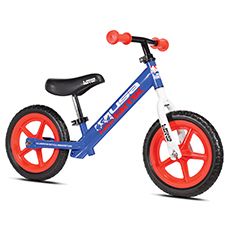 Juvenile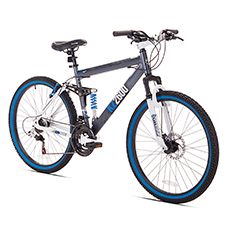 Mountain
Road
Start by asking yourself the following questions to focus your search on the right bike for the right rider:
Who is the bike for?
Are you buying it for yourself, your spouse or your child? The size and style of the bike is directly related to the size and age of the person riding it.
Find your perfect match
What Kind of Rider Are You?
Your riding style has a huge influence on the type of bike you need. Match your bike to your typical riding style.
| | Adventurous | Racer | Commuter | Casual |
| --- | --- | --- | --- | --- |
| BIKE STYLE | | | | |
| BMX | X | X | | |
| Cruiser | | | X | X |
| Hybrid | X | | X | X |
| Juvenile | | | | |
| Mountain | X | | | |
| Road | | X | X | |
Where Will You Be Riding?
Bike styles are designed for different riding environments. Match where you plan to ride with the best suited for that surface.
| Street | Bike Trail | Off-Road |
| --- | --- | --- |
| | | |
| | X | X |
| X | | |
| X | X | X |
| X | X | X |
| | X | X |
| X | | |
Determine the type of terrain you will bike on and how much time you will spend riding. That will help you decide on suspension and wheel size.
What is the right size bike?
No matter what style bike you choose or the shopping price point, size should be your number one priority. The right fit lets you easily reach the controls and feel comfortable while sitting and riding for the duration of your average riding time. You shouldn't be stretching to reach the handlebars and pedals.
| Rider Height (inches) | Rider Age (years) | Wheel Diameter (inches) |
| --- | --- | --- |
| 26 - 34 | 2 - 5 | 12 |
| 34 - 42 | 4 - 8 | 16 |
| 42 - 48 | 6 - 9 | 18 |
| 48+ | 8+ | 20 |
| 48 - 56 | 8 - 15 | 24 |
| 50+ | Adult | 26 |
| 56+ | Adult | 27.5 |
| 60+ | Adult | 29 |
| 56+ | Adult | 29 (Road) |
The frame size is also important. In general, the frame should be approximately 65% of the rider's inseam. For example, if you have a 32-inch inseam, you would need a bike with a frame that's 20 inches.
The Details
Upright bicycle frames, like that of a cruiser, tend to put the rider in a relaxed, comfortable position. However, you lose aerodynamics with the increased wind resistance, which is why most racing bikes feature bent forward riding frame designs. Other important details to consider include:
Frame Material and Weight
Carbon Steel: Strong and durable, but heavier than chromoly
Chromoly Steel: Lightweight and durable with excellent flex and form-retention
Aluminum: Light, strong and stiff
Titanium: All the strength of steel, but lighter weight and more expensive. Typically found on high-end mountain and road bikes.
Carbon Fiber: Lightweight and good shock absorption
Pedals
The best bike pedals for you depend on the type of riding you do.
Platform: Also known as flat pedals, can be used with most shoes, and offer a stable surface for your feet
Toe Clips: Small frames on the front of platform pedals surround your toes and give you the option to pull up and push down while pedaling
Clipless: Riders wear special cycling shoes whose soles click onto "clipless" bike pedal cleats similar to ski bindings
Tires
Tread: Slick tires for smooth, paved surfaces; semi-slick tires for smooth surfaces or light off-roading; inverted tread offers better grip when venturing off the pavement; knobby tires come in different styles for riding trails and rugged terrain
Tubeless: Allow you to lower the tire pressure for better traction and smoother ride
Studded: Aluminum or steel studs offer traction in snow or ice
Puncture-Resistant: Durable, but not as fast as other tires
Brakes
Rim: These brake pads grip onto the wheel's rims; are easy to maintain
Disc: Attach to the wheel hub; offer optimal performance in most weather conditions
Coasters: Old-school brakes that activate when you pedal backwards
Suspension
Mountain bikes and hybrids often feature integrated suspension for a comfortable ride over rugged terrain. Full suspension offers traction and control. Front suspension absorbs impact for a sweet ride.
Seat Height
Adjust the seat height so when your foot is at the lowest part of your pedaling stroke your leg has just a slight bend with 80 percent to 90 percent extension. To adjust the seat height on your bicycle, use a wrench to loosen the binder bolt or loosen the quick-release lever before raising or lowering the seat to reach the desired height. Don't forget to retighten!
Saddle Size and Position
If you plan to spend a lot of time in the saddle, you want to make sure you're riding on one that fits perfectly. Too narrow, and you'll end up with pressure in uncomfortable spots — too wide, and you'll end up with friction.
When it comes to positioning the saddle, the ideal position aligns your knee over your forefoot when your foot is at the three o'clock position while pedaling. The saddle should be set parallel to the ground.
Handlebar Types and Height
When it comes to handlebars, the height is just as important as the style. The reach from the seat to the handlebars should be comfortable. Generally, the higher the handlebars, the more power you can put into pedaling. Common types include:
Drop bar: Typical of road bikes; encourage a lower, hunched position
Flat bar: Typical on hybrid bikes, but may be round on mountain or road bikes; encourage an upright position
Riser bar: Typical on mountain bikes; encourage riders to sit back a bit
Mustache bar: Typical on hybrid and road bikes; allow diverse hand positions and a more upright position than drop bars
Basic Accessories
Chain and lock
Lighting for night rides
Helmet
Tire pump
Repair kit with patches, glue, tire levers and a wrench
Water bottle and cage
Cycling shoes
Gloves
Goggles
Jerseys
Padded riding shorts
Cold weather gear like jackets, pants, tights and insulated gloves
Use and Care
Keep your new wheels looking great and working smoothly with regular maintenance. Simply wiping the frame down with soapy water and a sponge and using degreaser on the gear sprockets and chain can help extend the life of your bike. See the chart below for a more detailed description of how to care for your bike:
Every Ride
Check the tire pressure
Look at the tire tread
Tighten quick release parts (wheels/seats)
Squeeze the brakes to check their function
Spin the wheels to check for wobbling; tighten parts as needed
Examine bike chain; add lubricant if necessary
Every 500 Miles
Clean and inspect the frame
Wipe the chain and cassette cogs down with degreaser; add new lubricant
Examine the wheels, checking for loose spokes
Tighten all moving and connecting parts with a wrench
Lubricate the pedal pivot points, brakes, gear cables and derailleur
Check the cables for fraying
Check the cleats and pedals for loose bolts or screws
Every 2,500 Miles
Clean and wax the frame; inspect it for cracks and dents
Check tire wear and replace as needed
Check the hubs, headset and bottom bracket
Check all cables for rust, corrosion or fraying; replace as needed
Inspect brake pad wear; replace as necessary
Inspect the handlebars; replace worn grips or tape
Clean the derailleurs, chain and other drivetrain components with rags and solvent
If the bicycle comes with a warranty, check with the manufacturer for coverage and warranty length.