Buying Guide: Door Mats
Buying Guides
---
Door Mats
Buying Guide to Door Mats
You want your front entryway to look as nice as possible, which is why choosing a door mat is important. While it does look good, a door mat is more than just cosmetic; it also plays an important role in keeping dirt, mud, and water out of your home. Finding a door mat that does double-duty isn't difficult - with a wide selection of door mats in all materials and designs, you can find something that looks good and keeps the debris out. Consider these points as you're shopping for your new door mat.
Door Mat Materials: Natural or Synthetic?
Natural Fibers
Include coir, cotton, jute, sisal, and sea grass and make very attractive door mats that only require shaking or vacuuming for care.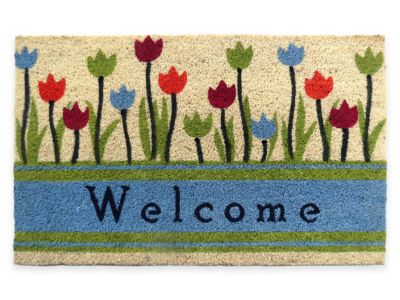 Coir
Coir is a natural fiber that is extracted from coconut husks and is especially strong and durable. These mats may or may not have a non-skid backing. Coir door mats have great scraping properties, and they help get everyday dirt off your footwear.
Cotton
Cotton is a highly absorbent material, making it an ideal pick for households with pets or children who don't wipe their feet. Cotton door mats are usually machine washable for easy cleaning but tend not to hold up as well in high traffic areas or when exposed to the elements as some other rug materials.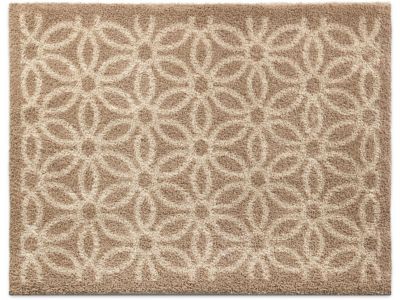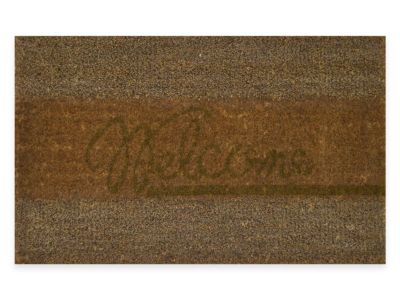 Jute, sisal, and sea grass
These other natural fibers are ideal for high-traffic areas. They are strong, durable, and wear well, but some may stain easily. Many are reversible, which can help them last longer.
Synthetic Fibers
Include polypropylene, rubber, nylon, and viscose and are ideal for outside the house as they tend to be more durable.
Synthetic Fiber
Synthetic fibers include polypropylene, rubber (recycled and crumb), nylon, and viscose. These fibers are often very rugged, can withstand damp environments, and are treated to resist mold, rot, and mildew, to repel stains, and will hold up well in the sun and elements.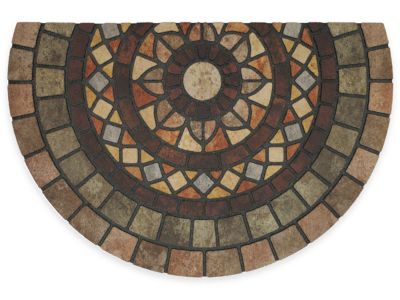 When comparing door mats, besides color and design, consider where you will place the door mat and the amount of traffic. Keep in mind that excessively sunny or rainy spots could cause the door mat to deteriorate quickly.
Door Mat Features
When you're shopping for a door mat, you'll find a variety of added features and benefits. These may include:
Skid Resistant Backing – Mats tend to slip as people kick their feet to remove dirt and mud from their shoes; a rubber nonslip backing helps keep the mat from moving.
Reversible – Reversible door mats offer patterns on both sides, so you can flip as desired. This way you change up the look at your entryway, and the door mat will wear evenly, extending its life.
Scraper Surface – Some door mats offer bristles perfect for scraping stubborn dirt from shoes before it tracks inside. Many are designed to trap dirt, so that they keep a clean appearance. These abrasive mats are ideal for high-traffic areas.
Indoor / Outdoor – Some mats are durable enough that they hold up in the elements outdoors, but are nice enough that they could also work inside the home. Look at the mat's scraping ability and absorption quality when purchasing.
Monogrammed & Personalized – Door mats don't just have a functional purpose – they can also be used to add a personal touch to any entryway. Welcome visitors with a mat monogrammed with your family initials, or give guests a friendly hello with a custom message.
Keep the Dirt Out
Help the door mat keep dirt out of your home by pairing it with other entryway items. Place a boot scraper next to the door mat so guests can get that stuck-on muck off their shoes or position a boot tray near the doorway so everyone has a place to put their wet and muddy footwear. Boot trays are large enough to hold multiple pairs of boots, they keep mud, dirt, and water contained, and they wipe clean quickly and easily. Alternatively, try the Super Sponge and Clean Step Mat to absorb all the water from your shoes, or use an all-weather mat.
Door mats aren't just for the main entryway – place them in mudrooms, garages, closets, laundry rooms, and every door into the home. If there's a chance your shoes will hit the floor, a mat should be in the room to capture all dirt before it tracks into your house.
Size Considerations
You want a door mat large enough to fit both feet, so a good rule of thumb is to make sure that the mat is at least 80 percent as wide as the doorway. When you're choosing a door mat, don't forget to take the mat's height into consideration; it needs to be low enough that the door can easily pass over it.
Caring for Your Door Mat
If you want your mat to last as long as possible, it's important to clean it periodically. To care for your mat, do the following:
Shake out mats to remove any dirt or dust.
Use dishwashing liquid to remove stains.
Occasionally vacuum to lift dirt deep within the door mat fibers.
Depending on its material, you may be able to hose off the mat and let it air dry.
Cleaning the mat not only helps it last, but it ensures that it can capture as much dirt as possible, keeping your home clean and your entryway looking stylish.