Furniture Buying Guide: Dining Chairs
Furniture Buying Guides
Learn everything you need to know about buying furniture.
Furniture Buying Guides
---
Dining Chairs
Dining Chair Buying Tips
While the table might get most of the attention when you're planning a dining room layout, it's important not to overlook the chairs—a beautiful, well-placed table will lose its impact if the chairs its paired with aren't a good fit style-wise or in size.
Choosing the right dining chairs comes down to a mix of measurements and style preference. Try these tips to simplify the process and make the best choice of chairs for your room.
Shop All Dining Chairs
Help Me Choose
Many people decide on chairs that all match (the most traditional style for a room). Dining chairs are often sold in sets of two, four, six or eight so you typically don't have to buy each individually.
Prefer more of a mix? A combo can work well if you follow a few guidelines. Decide on chairs in different styles but the same color—that common hue ties the varied seating together. Opt for chairs from the same design style, such as Traditional or European Heritage-this gives you a little variety but keeps the look cohesive. Another option: Decide on chairs in different styles but the same color-that common hue ties the varied seating together.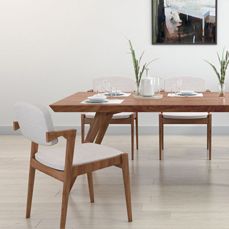 Types of Dining Chairs
Need advice on the chair style that will suit your dining room best? Some of the most common options to help you decide are: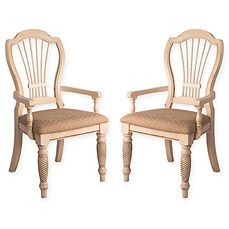 Arm Chair
---
Arm chairs can add a touch of formality and stateliness as well as comfort. Anyone who needs support when getting up from a dining chair will find arm chairs helpful. Arm chairs are typically placed at both ends of the table, where their larger frames have plenty of room.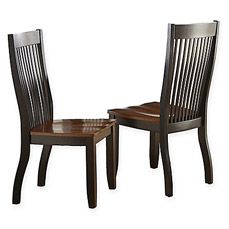 Side Chair
---
A side chair is simply the armless version of the arm chairs in a dining set. They take up slightly less space so they are often positioned on the longer sides of the table instead of bulkier arm chairs.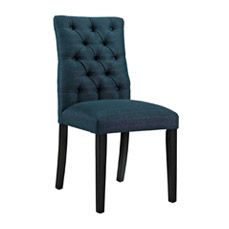 Parsons Chair
---
Named for the school of design where it was invented, the Parsons chair is a simple, usually upholstered chair with a slightly curved back, straight legs in front, and curved legs in back. This type of chair gives a room a comfortable and contemporary feel.
The Details
Measuring Tips
Leave about 36" of space between the dining table and walls or any other furniture to allow chairs to be moved in and out easily.
Keep in mind: Not all dining chairs are a fit for all tables. (For example, narrow chairs, while convenient for small spaces, are not as comfortable to sit in as wider chairs.) You'll have to do a little measuring to make sure you don't buy a set of chairs that are too big or too small to fit around your table.
When measuring, leave about 10 to 12 inches of space on either side of a chair. Consider seat depth too: a particularly long seat depth might become a problem if you have an unusually narrow table, for example. Make sure all your chairs will fit easily under the table when they're all pushed in too.
How Many Chairs?
A good rule of thumb is that every guest at the table should have 24 inches of space. This means that a 9-foot (108 inch) table would have space for three chairs on each side (plus one on either end, of course). Similarly, a shorter 6 to 7-foot (72 to 84 inch) table would have room for two chairs on each side.
Round or Square Tables
| Table Size | Chair Capacity |
| --- | --- |
| 36" - 48" | 4 |
| 60" | 6 |
| 72" | 8 |
Oval or Rectangular Tables
| Table Size | Chair Capacity |
| --- | --- |
| 72" - 84" | 6 |
| 96" - 108" | 8 |
| 120" | 10 |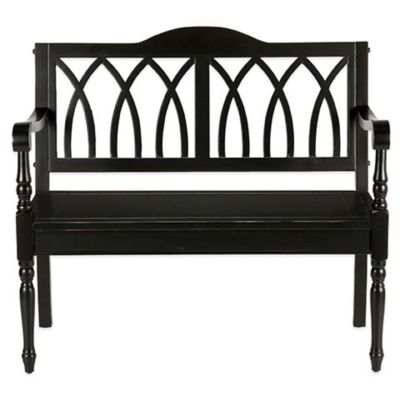 Consider Benches
If you're working with limited space and would like to occasionally fit more people around a smaller table, a bench is a good bet. It allows you to seat more people than you can seat with chairs, without taking up any additional space. While you can find benches to match a variety of table styles, they often go quite well with large wooden tables.
Shop Benches
Unexpected Guests?
If you have a table that has the option of extending with leaves for additional guests, be sure to purchase a couple of extra chairs in an identical style so you can pull them up when the table leaves have been extended.
Another possibility is to have a folding table and folding chairs on hand for when your entertaining needs demand extra dining space. Their major benefit is they can be folded up and stored away when not in use.
Generally, folding tables and chairs are available in metal, wood or plastic and tables come in rectangular, square and round shapes. Wooden versions are more traditional and tend to be nicer looking, however while metal and plastic versions are more durable (ideal for outside use).
Shop Folding Tables & Chairs