Furniture & Delivery Measuring Tips
Chances are, any new piece of furniture you buy will have to do quite a bit of traveling through your home to get to its intended location. Will it fit? Is there enough clearance to get through all the doors and hallways? Here are the measuring guidelines you need to know to make furniture-moving day go smoothly.
The Details
Measuring Furniture
To make sure it will fit through various areas of your home, you need to know the piece of furniture's exact dimensions. Follow this guide for the measuring how-tos.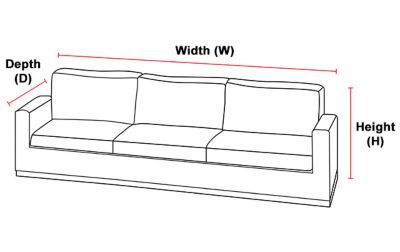 Chairs & Sofas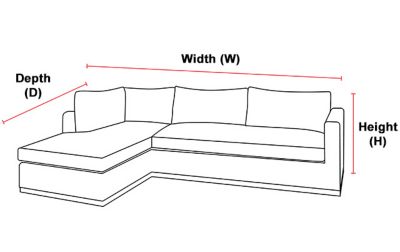 Sectionals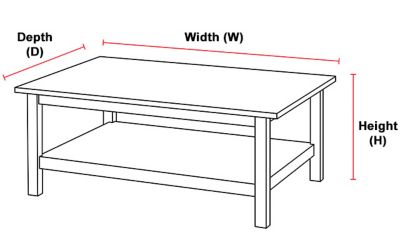 Coffee Tables & End Tables
Measuring for Delivery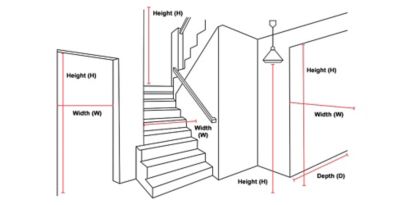 Doorways
1. Measure from the floor to the top of the doorway (height).
2. Measure between the narrowest parts of the doorway's width (inside the doorjambs).
3. Measure the amount of room from the doorway to the nearest opposite wall in the hallway.
Keep in Mind
If you've measured the width of your piece and have found it isn't going to fit through the front door (or any door on the way!), don't panic — you may still have some options. If you're close (within an inch or two), consider removing the door from its hinges — the extra space is often just enough to let a tight fit squeeze by. If removing the door still isn't enough, consider shifting the piece — can it fit through if tilted on its side or held at an angle. (Sofas, in particular, often need to be held diagonally in order to fit through entryways, and the diagonal measurement should be available in the store or on the store's website.) What about disassembling the piece — is there any way to break it down into smaller parts?
Stairways
1. Measure from the lowest ceiling area to the site directly under this point.
2. Measure between the narrowest positions of the stairway (probably from the handrail to handrail or handrail to wall).
Keep in Mind
When moving smaller pieces, a stairway shouldn't harder to navigate than a hallway (other than the extra muscle power required!). But problems can crop up when moving larger pieces because obstacles like railings, corner turns, and low over-stair ceilings can come into play. Measure them ahead of time to avoid any issues.
Door Clearance/Hallways
Pay special attention to door clearance, and make sure you consider a hallway's tight corners. In some cases, a door opens into a hall that immediately turns left or right —you need to measure that area to make sure your furniture can clear that corner.
Stairway Landings
1. Measure from the landing's floor to the ceiling (height)
2. Measure between the two narrowest portions of the landing's width.
3. Measure between the two narrowest portions of the landing's depth.
Remove Obstacles
If you don't remove unnecessary items (kids' toys, pet gear, knick-knacks) from the route ahead of time, the installation process can become cumbersome. Also, take special care around pictures on walls or ceiling light fixtures to avoid bumping or jostling them.
Other Helpful Tips
Plan the Route
If you have a table that has the option of extending with leaves for additional guests, be sure to purchase a couple of extra chairs in an identical style so you can pull them up when the table leaves have been extended.
Consider Corners
Corners can be visually deceiving, so you may have to get creative ('We can hold this dresser vertically for a few moments, right?") or consider disassembling the piece to get the job done.
Check Elevator Size & Space
Live in an apartment or other building with multiple floors? Don't forget to measure the size of your elevator! It's another part of measuring that entire path from the front door to the final place. Plan on measuring both the doorway and the interior of the elevator.
Measure Twice, Move Once
Checking dimensions a second time is the best way to avoid making a mistake. Make sure you mark the dimensions clearly to keep track of which is which (width, depth, and height).
Take Professional Advice
If your piece is being delivered (or installed) by a professional service, follow their lead — they probably know what they're talking about!